Procedures to Print email from Windows 8 Mail App. – Windows 8 has brought a lot more changes in terms of its novelty and its Interface. User-friendly interface of Windows 8 ensures its acceptability to the common user. It introduces more apps for simply accessing installed programs on PC. All exercises related to documentation, editing, emailing and even sharing could be done easily without any additional software. Now, my point of taking shifting to act of printing existing email in Windows 8.
Whenever you operate newly innovation of Microsoft, Windows 8 at first time,  get amazed with its interface. Here you won't be able to see the earlier desktop.  Metro Screen replaces to the earlier desktop. As far as printing concern, you do familiar to take print in the desktop environment, but printing in Metro Style in Windows 8 requires slight changes in the older instance. As you know, Apps of Windows 8 don't support printing; so, does Mail Apps. Here, the question arises what to do for printing of an important mail in Windows 8.
Print email from Windows 8 Mail App
In Windows 8 printing, taking print of any mail requires saving such mail as a document in the folder. And after then apply printing act. To ease out your printing problem with email I am going to discuss all the required steps: –
Press Window Key + C to bring up Charms bar and after then select Start

Then after, choose Mail Apps and search important one, which you want to print. Open it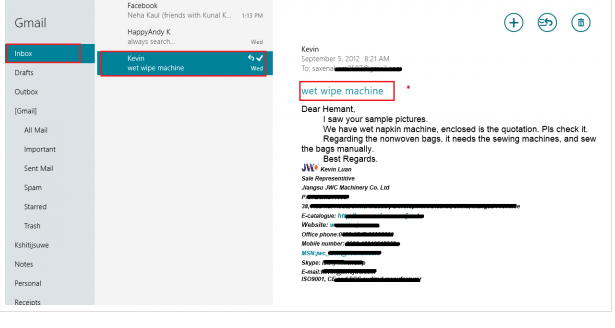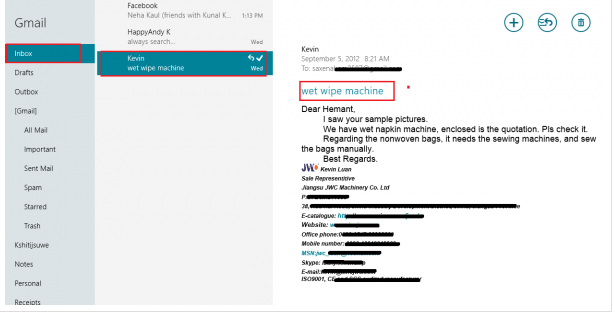 Now, press Ctrl + P to bring up print devices. Choose here installed printer as Microsoft XPS Document Writer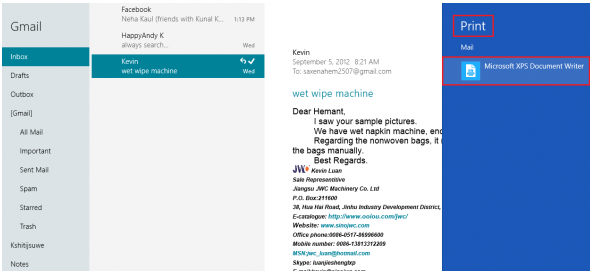 Click Ok and set the page orientation and press Print button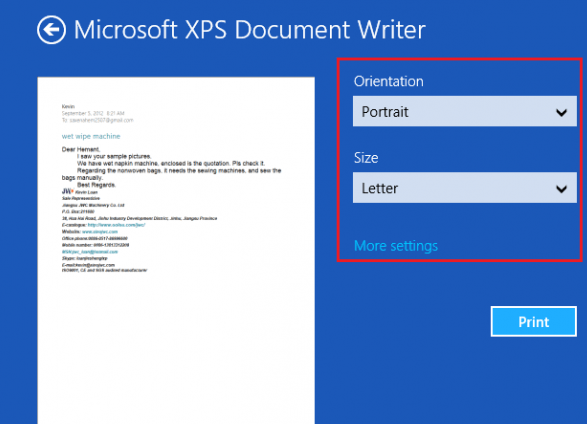 Now, you will be able to get notification of File Saved to document folder. Go to the proper location, where mailing filed was kept and after then take print out easily.

Hoping after following successive steps as mentioned above, you will successfully eradicate the problem,  which occurs during any printing related to mail.