Everyone wants that his Personal Computer look is exclusive. So you may set images in the right places as your wish. For this, you may place computer icon in Windows 8 start menu. Here I am providing steps to do that.
Place Computer Icon in Windows 8 Start Menu
First Tips
Launch Windows Explorer by pressing the shortcut (Windows key + E).
Then Right-click on the computer icon from the left panel and choose this option – Pin to start from the right context menu panel.

Second Tips
Press Shortcut (Windows key+ F) and it brings metro search window. Now type computer in the search box.
When you will get Computer Icon search results in the left panel, right-click on it and choose Pin to start options from the bottom panel.

Thus, you have created computer icon into metro start screen. You can also drag computer icon anywhere you wish it to be placed (Taskbar panel).
Placing  Computer Icon on the Windows 8 Desktop Screen –
Right-click on your desktop screen any place and choose Personalize menu from the right context menu panel.
Now it brings Personalization dialog box. Click on this option – Change desktop icons in the left panel.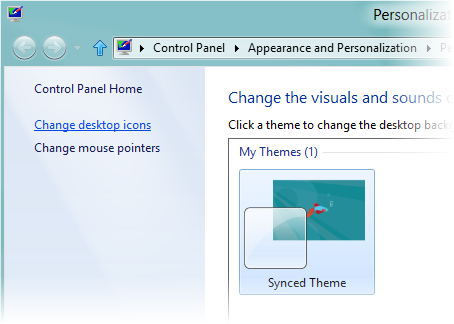 Then you get a new dialog box (Desktop Icon Settings). Here check the opted box which you want to show on the desktop screen.
Finally, click on Apply and OK button.

That's all you have placed computer icon to your desktop screen easily.