While you start a Windows update process manually on your Windows 8.1 system, it suddenly hangs on. In fact, this type of irritating situation disturbs you in updating. Some old driver versions also create a number of other issues on your Windows 8.1 system when you update and you fail to complete the windows update process. Although Microsoft facilitates auto update feature but many Windows 8.1 users like manual update instead of auto update.
If you are not capable of completing windows update process manually or get the system hanging problems several times then follow some possible tips fix Hanging issue during Windows 8.1 update.
Fix Hanging issue during Windows 8.1 update
Solution 1
When you try to update any apps then you find that your Windows 8.1 system becomes unresponsive and the system hangs. To resolve this kind of problem on Windows 8.1, try other ways to start the manual update process. For example – go to the control panel using shortcuts (Win + X) menu and select Windows update option.
Solution 2
Frequently it has been noted that third-party antivirus software also prevents the running update process. So, disable the installed antivirus for several hours and try to start running updates.
Solution 3
Try to start running single updates at a time rather than running multiple updates. To stop the running multiple updates tasks, go to control panel through the start screen. In the control panel, select System and Security and then select Windows Update option. Now search for important available update links and start it.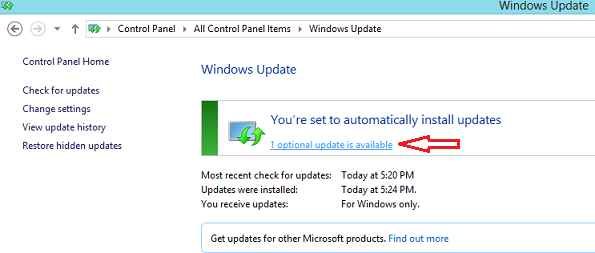 On the next window, check the single update file and click on Install button at the bottom to start the manual update.
Solution 3
If the Windows Update service is running as unresponsive role then stop and start the update service using the system configuration. To do so, press (Windows + R) shortcut to launch RUN dialog box and enter command services.msc. In the services window, search for Windows Update Service and stop it in less than minutes.
Next, reboot the system. On system startup, type services.msc command again in RUN dialog box. Next, select the Restart button to begin the Windows Update Service. Definitely, this solution will work fine and windows finishes update process without any hangs.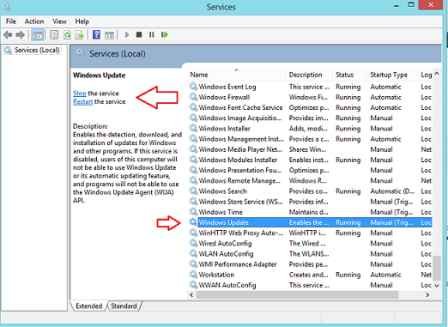 Solution 4
Run system file checker command (sfc /scannow)  to repair and replace the corrupted system files on your Windows 8.1 system.
Hope the tips explained above help you fix Hanging issue during Windows 8.1 update process on a Windows 8.1 system.
Repair any Windows problems such as Blue/Black Screen, DLL, Exe, application, Regisrty error and quickly recover system from issues using
Reimage
.