Red Dead Redemption 2 is a reputed adventure game from Rockstar Games but several users encounter issues when playing this. One of them is random crashing of the app with with message popping up as Unknown Error FFFFFFFF. This causes annoying interference with the gameplay of RDR2 for no reason. Even people starting to dislike this game due to this mysterious error so we are trying to present some working solution to this issue.
RDR2 Unknown Error FFFFFFFF is likely to occur because of problematic audio driver, DirectX 12 API, or outdated video graphics. Changing graphics API sometimes works wonderfully to fix it. See: Fix: Red Dead Redemption 2 PC / RDR2 PC Error in Windows 10. Now, let's follow the solutions:
Unknown Error FFFFFFFF RDR2 or Red Dead Redemption 2
Here is how to fix Red Dead Redemption 2 Unknown Error FFFFFFFF (RDR2) in Windows:
Connect Headphone or Speaker
As mentioned, external devices such as headsets and speakers can cause this issue and connecting these devices to your PC may help. Frankly, there is no authentic reason behind this but this is a trick to resolve Unknown Error FFFFFFFF on RDR2.
Connect Speaker or headphone to your computer.
Either you can pair the devices using Bluetooth.
Restart the system and check if the error message no longer appears.
Switch the Graphics API from Vulkan to DirectX 12
Switching the graphics API from Vulkan to DirectX 12 (or vice versa) in the advanced graphics settings of the game may solve the running error. This can be done without opening the game by following steps:
Press Windows and I keys.
In File Explorer, go to the location: "Documents/Rockstar Games/Red Dead Redemption 2/Settings".
Right click on systems.xml and select Open with > Notepad.
Scroll down until you locate the section: <advanceGraphics>
In the line <API>kSettingAPI_Vulkan</API>, change Vulkan to DX12. If the line is already <API>kSettingAPI_DX12</API> then change DX12 to Vulkan.
Click on File > Save in the Notepad and close it.
Then back to the folder Documents\Rockstar Games\Red Dead Redemption 2\Settings.
Find every file that starts with sga_ and delete it. The files would be like sga_vulkan_final_init.vkWarmupCacheWindows or sga_vulkan_final_init.vkPipelineCacheHeaderWindows.
Open the game Red Dead Redemption 2 and see if the issue is resolved.
Deactivate the fullscreen optimization
Fullscreen optimization for Red Dead Redemption 2 might be a culprit when Unknown Error FFFFFFFF appears. Therefore, disable the fullscreen optimization for the game using the below guide:
Right-click on RDR2.exe.
Select Properties.
Go to the Compatibility tab.
Check the option – Disable screen optimizations.
Click on Apply and then OK.
Update Graphics driver
Obsolete display adapter driver whether it is NVIDIA or AMD can trigger the issue to throw the error message. Update them through Device Manager or install the latest version of the driver manually after downloading from the concerned official website.
Right click on Start and select Device Manager.
Expand Display adapters by double-clicking on it.
Then, right-click on Graphics card (NVIDIA or AMD) and select Update driver.
From the new window, choose Search automatically for drivers.
Restart the system and check if this works.
If not then go to NVIDIA or AMD driver download page. Select the supporting latest driver and download it.
Run installer from your download location and follow the instructions on screen to complete process.
Finally, restart the computer.
Install pending Windows Update
Drivers of OEM are distributed by Microsoft to Windows through automatic Windows Update. Check if any pending update is available on your PC and install it using the following steps:
Press Windows key and type updates.
Hit Enter to directly reach your Windows Update Settings page.
Click on "Check for updates" from the right panel and stay for a while until scanning is completed.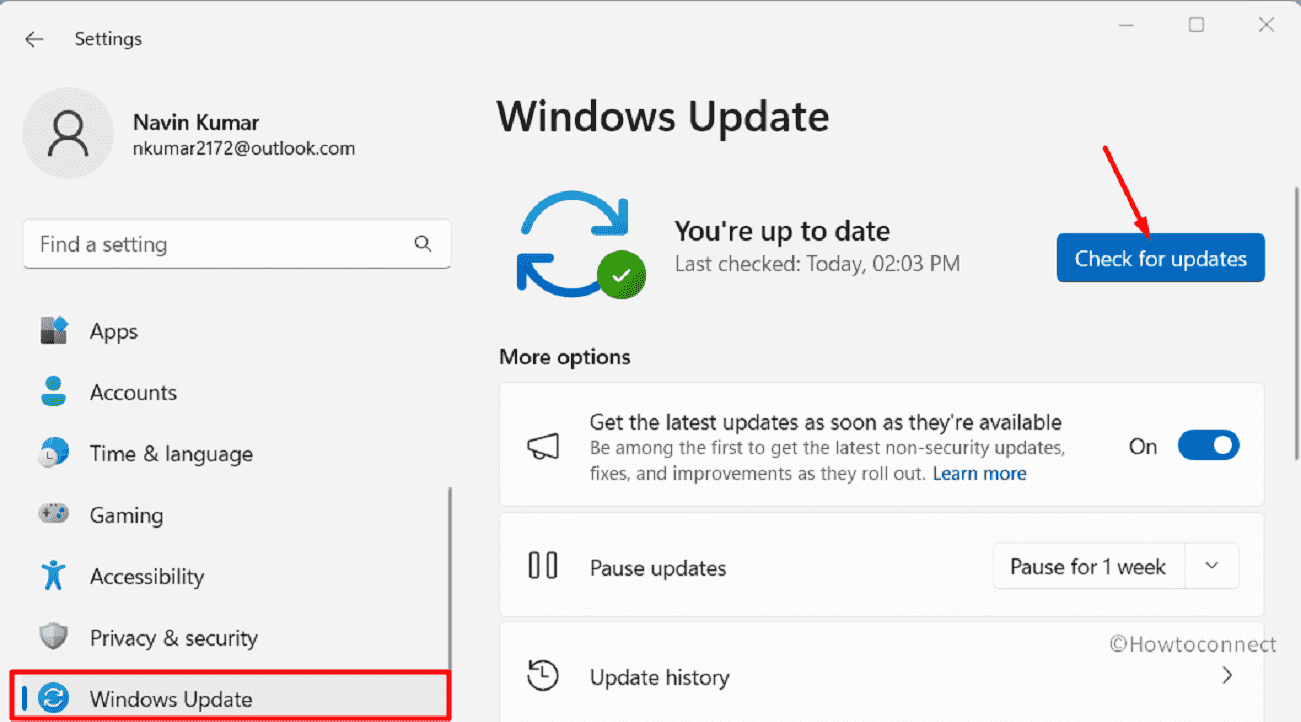 If any pending is found, wait for it to be downloaded and click on Restart now.
After a couple of restarts, the driver will be completely installed.
See if everything is fine on Red Dead Redemption 2 and you are not getting Unknown Error FFFFFFFF.
Read: How to update drivers in Windows 11 (Best ways).
Methods:
Connect Headphone or Speaker
Switch the Graphics API from Vulkan to DirectX 12
Deactivate the fullscreen optimization
Update Graphics driver
Install pending Windows Update
That's all!!
Repair any Windows problems such as Blue/Black Screen, DLL, Exe, application, Regisrty error and quickly recover system from issues using
Reimage
.