Windows 8 and 8.1 allow users to change their Input Language. After getting Update 1 for Windows 8.1 you might have noticed that the input language indicator is always displaying at your taskbar notification area. When you restart your system it should be hidden but it doesn't. Since input language is not an essential tool or information and worth displaying for most of the users, you may feel it in vain on an important place like taskbar. Many users want to remove Language icon from Windows 8.1 Taskbar Area. You can see ENG in the screenshot below:
Recommended: Guide to Fix Power State Failure Driver and BSOD in Windows 8
Here, we are presenting tips to remove  Input Language Indicator Icon from Windows 8.1 Taskbar.
1. Launch Control Panel.
2. Click on Language icon.
3. Click on the Advanced settings option appears at the left side panel.
4. In the Switching input methods section, Tick on the Use the desktop language bar when it's available option.
5. Click on the Options. 6. It will open a new menu box named Text Services and Input Languages. 7. In the Language Bar section. 8. Click on Hidden.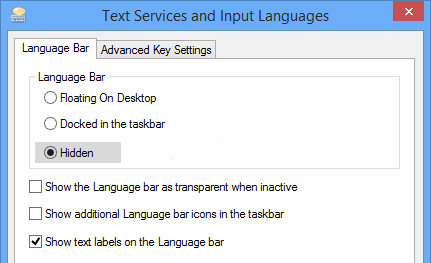 Save it and when you restart your system the language icon will disappear. This will remove the language notification icon from your taskbar. If you want to change languages time and again according to your requirement then you can leave this icon in your taskbar because it will help you to change languages in a few clicks.