When we upgrade our system to the latest version of OS, it brings new features and fixes many errors that were present in the old version but also introduces new errors. These days after upgrading Windows 8 to 8.1 some users are getting errors related to drivers, applications, registry entries, etc. But here we will discuss the error Split Windows Store App Shortcuts mostly users are infesting after upgradation of Windows 8 to Windows 8.1. Installing these apps fails and you get a message for this. You get This error occurs due to bad upgradation or an unclear installation of Windows. Those applications which were present in Windows 8 store, after upgrading to 8.1 you get these app shortcuts split as shown in the below picture.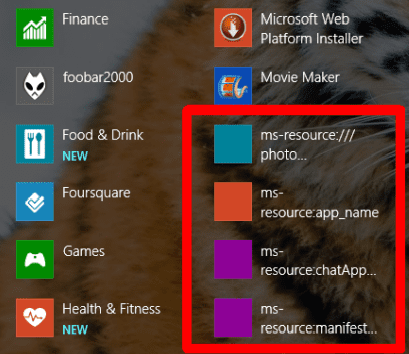 Name and apps icon looks unclear and when you want to open these apps, it displays an error message There's a problem with the app you're trying to run. Users are unable to read the app name and do not recognize the app.
To fix Window store app install issue due to app shortcut is broken chase the tips below:
1. Create a new user account,
2. Open Troubleshooter,
3. Try to reset app cache.
1. Create a new user account:
In Beginning, you should create a new account on your Newly upgraded OS. Restart your system and Login with your newly created account. This can fix this error. But, if the error is still presents try few more steps written underneath.
2. Troubleshoot Apps:
Download Apps Troubleshooter and launch. You get a dialogue box like the screenshot:
Click on Next and perform the troubleshooting action as you get suggestions. This will fix the issue, otherwise, follow the below steps.
3. Reset App Cache: 
Launch Run Dialogue box and write WSReset.exe and hit OK. After a while, it will clear cache of app store and fix the issue. If the issue still occurs pursue the below written tips.
Fix Windows Store App Shortcuts Split After Upgrading to Windows 8.1
1. Open run dialogue box using Win+R key.
2. Type
C:\Users\<USER ACCOUNT NAME>\AppData\Local\Microsoft\Windows\Application Shortcuts.
(Remember in the place of User Account Name type your system's user name.)
3. It will open Application Shortcuts Window. Here you will find the applications list installed in your system.
4. Choose your application name which is corrupted. (Here I Choose Solitaire HD Game)
5. Open the application shortcut folder.
6. Right-click on the App shortcut and select Delete.
After deleting shortcut the folder will be empty. Close the window. Now restart your system and open the Windows Apps Store. Choose your application which was corrupted and Install it again. After Installing, its shortcut will appear at Start Screen. Open the application and enjoy it. Hope that your error will be solved, Comment below for any help related to this error.
Repair any Windows problems such as Blue/Black Screen, DLL, Exe, application, Regisrty error and quickly recover system from issues using
Reimage
.