Want to remove Windows Security System tray icon? This article has everything to help you out. Windows security, the built-in security tool, is a new name of Windows Defender Security Center that comes with Windows 10 October 2018 update (1809). The application serves as a simple straight means to offer advanced control over privacy, the performance of the device and system protection. There is usually a tray icon (that looks like a shield) which allows users to quick-launch the app for use.
Now, in case, to have neat and clean taskbar or for any reason, you decide you want to remove Windows Security System tray icon, here are some methods. After eliminating, you won't be able to quick-launch Windows Defender, but you can open the same from the Start menu.
Ways to remove Windows Security System tray icon in Windows 11 and 10
Here is how to remove Windows Security System tray icon in Windows 11 or 10 –
Method-1: Using Task manager
This is a simple and generally used method for disabling or removing Windows Security System tray icon.
Step-1: Open Task Manager. You can either right-click on the taskbar and select the Task Manager option or press shortcut keyboard keys Ctrl + Shift + Esc for this.
Step-2: If what opens is the mini-version of task manager, clicking on 'More details'
Step-3: By default Processes tab will be selected; Click on the Startup.
Step-4: Find the Windows Defender notification icon entry. Right click on the same and choose  Disable.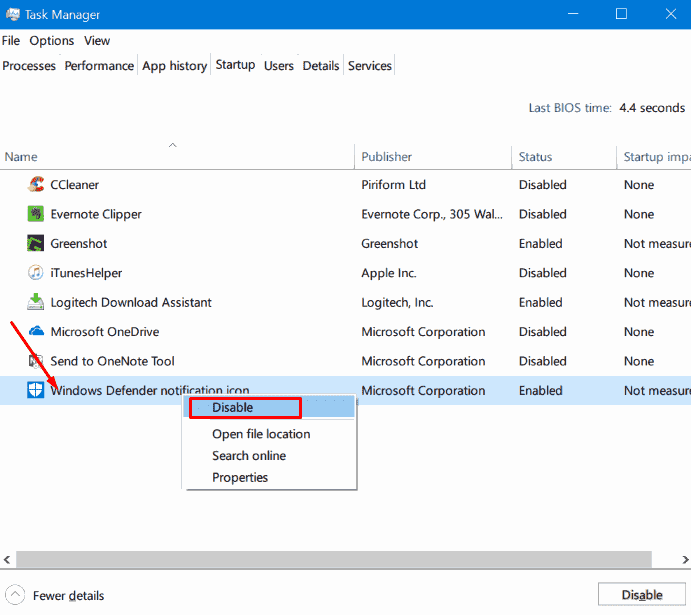 Method-2: Using Regedit.exe
As with many settings, you can disable Windows Security System tray icon by tweaking registry keys as well.
Copy and paste the following path into the address bar to make your way to this key location –
HKEY_LOCAL_MACHINE\SOFTWARE\Policies\Microsoft\Windows Defender Security Center\Systray
Right click in the right side and select DWORD (32-bit) Value.
Name the value Hidesystray.
Set the data to 1.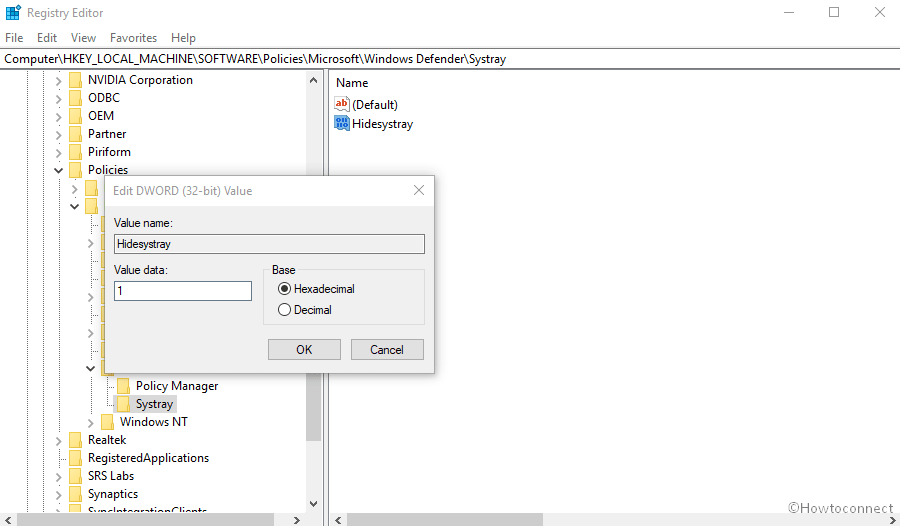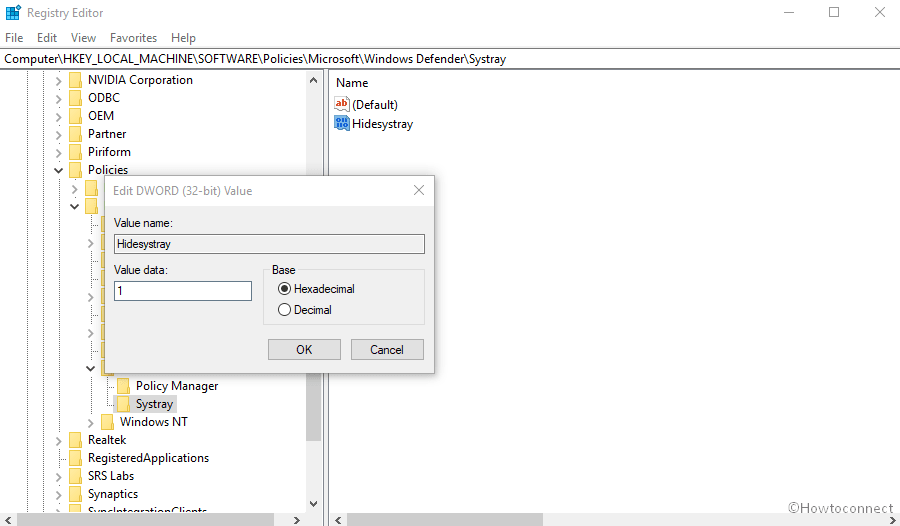 If you want to restore Windows Security System tray icon sometime later, you can simply delete the value.
Method-3: V  Group Policy
You can also remove Windows security taskbar icon through Group Policy. However, note that this feature is available only for Windows 10 version 1809 and later. Here's how you get rid of the tray icon by this method.
Go to Computer Configuration option on the left pane.
Select Windows Components.
Navigate to Windows Security.
From the options available there, select Systray
In the Edit policy settings section, you will find Hide Windows Security Systray. Double Click on it.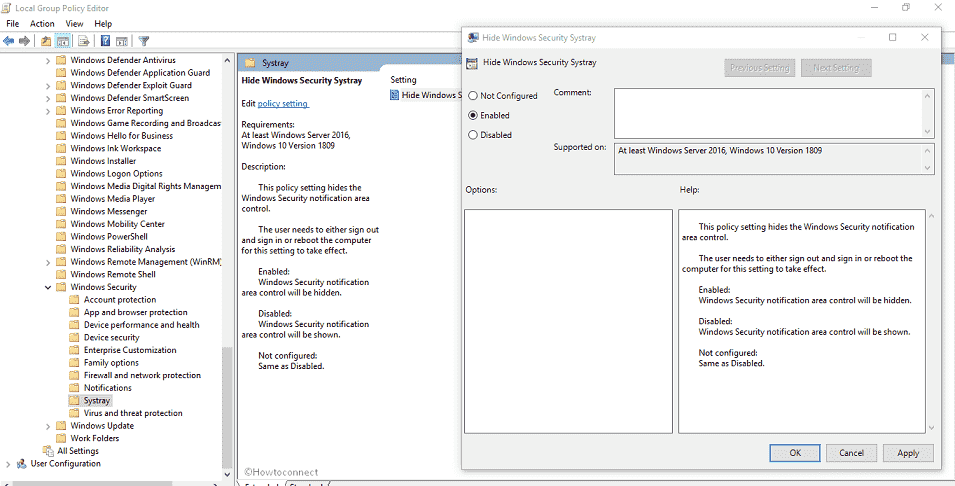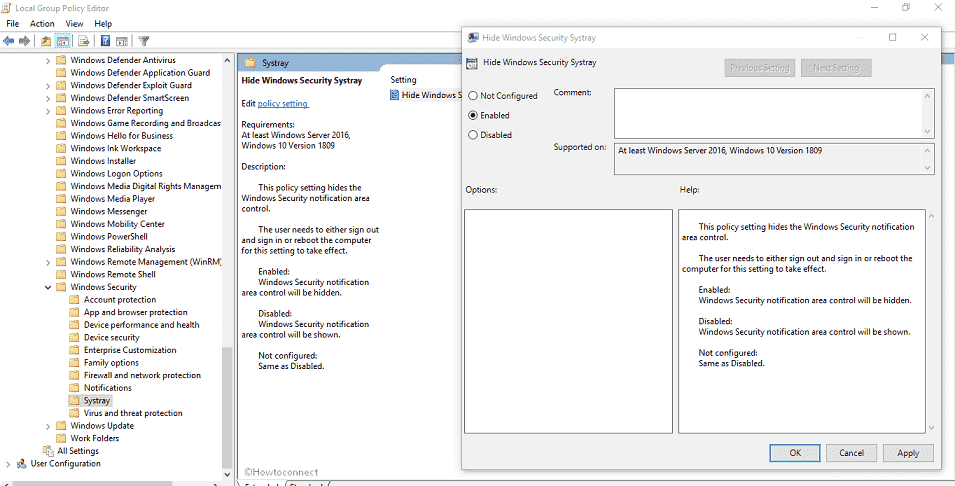 Hide Windows Security Systray window will pop open.
Select 'Enabled'.
Finally, Reboot the system.
So you can Remove Windows Security System Tray Icon in Windows 11 or 10 using 3 super easy ways.
That's all!!!
1) How to Shift Third Party App Icons From Taskbar to System Tray Windows 10
2) How to Restore Old Battery Flyout on windows 10
3) Add Seconds to Taskbar Clock Hours and Minutes in Windows 10
4) Remove Windows Security System Tray Icon in Windows 10
5) Registry Hacks for Start Menu and Taskbar in Windows 10