How to Set Twitter App Theme Dark or Light in Windows 10 – In the past few days, a significant update has arrived at the Universal App of Twitter comprising certain distinctive features. Now on the Twitter app whether on Windows 10 Desktop or Phone you are capable of doing change in its theme to make it dark or light, send a direct message to any group, add Moments, and  beautify your tweets by adding quotes. Many enthusiastic users like to have the black theme on this app. Hence, in the remaining portion of this article underneath, we will present the steps to Set Twitter App Theme Dark or Light in Windows 10.
How to Set Twitter App Theme Dark or Light in Windows 10
Launch the "Twitter App" from the "start menu". If you are unable to trace it  out on start simply write "twitter" in Cortana search and click on the result just below best match.
Move to the left sidebar of the Twitter app and hit on "Me".
In the left, look for "Setting" button, click on it.

Once you click the "Settings", a new pane spreads out parallel to it in the left side containing a menu of several options.
Hit on "Personalization", the second choice on this menu.
Again move to the right where you witness "Personalization" having two tiny round cells before Dark and Light in theme section theme. Check the round cell before your desired color of the theme.
Strike on the "Save" button.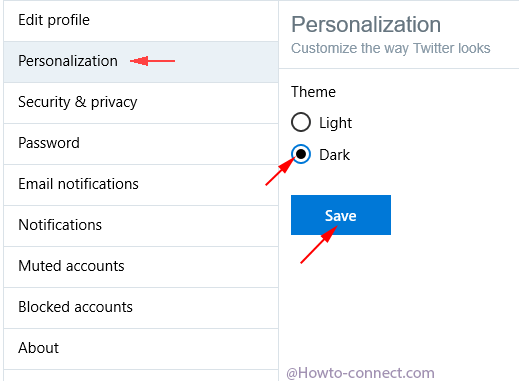 As soon as you click the "Save" button a confirmation dialog box prompts, saying "You must relaunch this app to apply theme changes. Would you like to close the app now." Click on "Yes".
The app Twitter app closes at the same instant, relaunch it now using the methods told in the first step.
Enjoy the desideratum color of the theme on Twitter on your Windows 10 device.
If you are also a fervent and desirous user who want to see either a dark or light color theme on your Twitter app, follow the tips and enjoy.