SFC /Scannow, DISM.Exe, CHKDSK Windows 10 Explanation. SFC full form is System File checker and the deployment of its command refers to starts scanning promptly (now). DISM furnishes a Windows PE Environment and for this, it takes help of various kinds of files.
CHKDSK is also a tool that investigates flaws on a disk and its meaning is Check Disk. Let's explain each of the three System troubleshooting tools one by one in the subsequent paragraphs.
SFC /Scannow, DISM.Exe, CHKDSK Windows 10 interpretation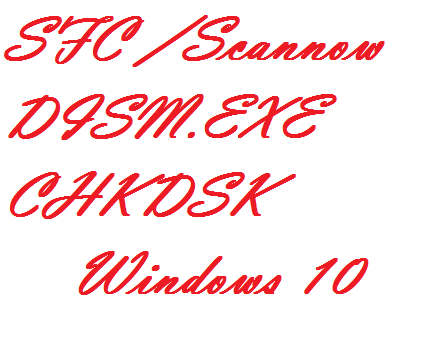 SFC /Scannow Windows 10
The first utility of SFC /Scannow, DISM.Exe, CHKDSK Windows 10 is sfc /scannow. It a significant built-in tool, digs out the mess up files, and traces out faulty changes in files.
The main function of this utility is to Scan thoroughly and confirm the system file's edition after reboot a machine.
SFC identifies the system file if anyone tampers and brings back the file's appropriate version from %systemroot%\system32\dllcache. This original file supersedes the corrupt one with the help of SFC.
When you encounter any type of error on your System, the first universal suggestion is to run SFC /scannow. The mess up maybe buggy Windows system, for instance, BSOD, or application crashing, etc.
How to Run SFC Command
Step 1 – Perform a right-click on Win logo residing at the extreme left of the taskbar. Once the Power user menu stands up, trace out Command Prompt (Admin) in the middle and hit it.
Step 2 – Write the code sfc /scannow and to execute its duty, hit Enter
New
Step 3 – The command starts working and shows the status in real time so here you need to wait patiently.
SFC Report
After the verification is 100% complete, you may witness one of the below notes –
1. Windows Resource Protection did not find any integrity violations
This note indicates that there are no lost or distorted files detected on your system.
2. Windows Resource Protection could not perform the requested operation
If you witness this error, run SFC in safe mode, and confirm that underneath %WinDir%\WinSxS\Temp, PendingDeletes, and PendingRenames folders exist.
3. Windows Resource Protection found corrupt files and successfully repaired them. Details are included in the CBS.Log %WinDir%\Logs\CBS\CBS.log.
All the necessary actions are taken into account and thus, all the issues are solved.
4. Windows Resource Protection found corrupt files but was unable to fix some of them. Details are included in the CBS.Log %WinDir%\Logs\CBS\CBS.log.
Many of the times SFC repairs and handles the mess up, but all the time it is not possible.  In the cases, you should proceed according to the SFC report.
DISM Windows 10
The second tool of SFC /Scannow, DISM.Exe, CHKDSK Windows 10 is DISM. Whenever you come across flaws like BSOD or applications crashing, it refers to the corruption of files. Under those circumstances, two functions can settle down the mess and one you regularly use is SFC command. However, in some severe cases, SFC fails to resolve the issues, and this is when DISM comes into the scenario.
Deployment Image & Servicing Management or commonly you know as DISM is the tool which settles down component store falsification. This falsification intercepts SFC from operating accurately.
However, this utility is also capable of rectifying and handling Windows image. In addition, it can also manage Windows Recovery Environment, Windows Setup and Windows PE.
DISM takes the assistance of three chief options to rectify the Windows Image troubles on your machine. These equipment are entitled as CheckHealth, ScanHealth, and RestoreHealth respectively.
Use DISM with CheckHealth Option
In order to detect the presence of corruption, /CheckHealth switch is used along with DISM. It will only see if corruption exists, but it does not rectify it.
Step 1 – First of all, Hit on the composition of Win & X keys on the keyboard. A menu will arrive comprising the choice entitled Command Prompt (Admin), hit on it.
Step 2 – Input this piece of code and to execute its duty hit Enter – DISM /Online /Cleanup-Image /CheckHealth

Use DISM with ScanHealth
To examine the Windows Image for any mess up, execute DISM command with the /ScanHealth switch. Well, this command line might take a few minutes to complete the process.
Step 1 – Launch Elevated Command prompt with the method elaborated above.
Step 2 – Write down this Piece of code and to execute its duty, gently press Enter – DISM /Online /Cleanup-Image /ScanHealth
Use DISM with RestoreHealth
To examine with Windows Image for existing sufferings and rectify it, you should employ DISM command with the /RestoreHealth switch.
Step 1 – Access Elevated command prompt with either of the previously-illustrated processes above.
Step 2 – Copy this piece of code, paste, and press Enter to execute it – DISM /Online /Cleanup-Image /RestoreHealth
Step 3 – Allow it to perform the scan accurately and completely and it may take more 10 minutes to finish. And if you see that the scan got stuck at around 20%, don't worry as it is normal phenomena.
Step 4 – Once the DISM scan is over, reboot the machine.
CHKDSK Command
The third and final pillar of SFC /Scannow, DISM.Exe, CHKDSK Windows 10 is DISM. This is another repair utility, Microsoft contributes, is for hard disk scanning and repairing. Users popularly know it as Chkdsk aka Check Disk. People commonly run this tool to inspect their faulty drives and rectify them if required.
How to Use CHKDSK Command
Step 1 – First of all, Spread out the Elevated Command prompt on the screen using either of the ways.
Step 2 – If you see a UAC prompt, agree with its specifications by tapping Yes.
Step 3 – The format of the command line is similar to – chkdsk [Drive:] [parameters]
Step 4 – chkdsk command exhibits the disk's status but doesn't rectify errors from a volume. Hence, after the drive letter, write the following parameters – /f /r /x
The parameter f directs CHKDSK to fix the errors that it will discover on the volume.
The parameter r instructs CHKDSK to trace out the poor sections in the volume and retrieve the readable data.
The parameter x compels the volume to dismount before the commencement of the process.
Step 5 – So, the entire command will be like this – chkdsk [Drive:] [parameters]. After input of the drive letter and parameters, the command will look like this chkdsk C: /f /r /x


Note – Noteworthy is CHKDSK requires to lock the drive if the drive holds the System files. If the drive doesn't contain an operating system or it's external, then command starts to execute within no time. When you type the command and execute it will ask to scan the disk before the boot of the machine. Hence, write y aka yes and reboot the machine. The command will begin its impact prior to the Operating System loads.
In this manner, SFC /Scannow, DISM.Exe, CHKDSK Windows 10 pay a significant role to troubleshoot mess up.
Repair any Windows problems such as Blue/Black Screen, DLL, Exe, application, Regisrty error and quickly recover system from issues using
Reimage
.