Sihost.exe Unknown Hard Error commonly occurs during the shutdown or startup of Windows 10. For many users, the pop up also appears when they attempt to start a certain program. The dialog does not provide any option for dealing with but you can click the close button for a temporary relief.
Sihost.exe Unknown Hard Error message shows up quite frequently which causes different system issues, as 100% disk usage, a slow bootup process or a steady running computer. Before talking about the workarounds, we should know what is this exe error and cause of its occurrence.
What is Sihost.exe?
Sihost.exe is an invisible EXE file Microsoft uses to track various applications moreover tamper with running programs on Windows. So hackers often look out for creating a virus with the similar filename and infect including manipulating computer.
Sihost.exe Unknown Hard Error Reasons
1. Faulty or distorted Windows registry keys.
2. Corrupted system files or virus or malicious software.
3. Certain program accidentally or maliciously deleted Sihost.exe.
4. Incomplete or corrupt download of Windows 10 OS leads to the error.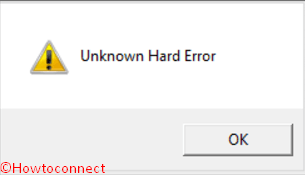 There are usually 5 simple ways to fix this error.
Sihost.exe Unknown Hard Error in Windows 10 Workarounds
Way 1 – Revert Recent Software Changes
In case, you are confident about a software, application or program that is causing the error banner, then remove or reinstall the same. This will help to sort out of the issue if at all that particular software creates the error.
In this concern, you can pursue How to Uninstall a Software With Registry Editor in Windows 10.
Also, follow our complete guide on How to Completely Uninstall Software From Window 10 – Beginners.
Way 2 – Clean Boot
Step 1 – Launch the Run dialog box and type in msconfig in the provided text field. Moving ahead, for execution of the command, ensure to press Enter.
Step 2 – This opens the System Configuration Box, stay on the General tab, the first one. Here choose the Selective Startup option then uncheck Load Startup items as shown in the following picture.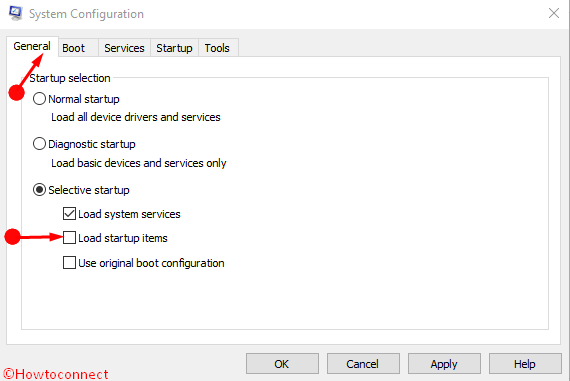 Step 3 – Now shift into the "Services" tab and check the box adjacent to Hide all Microsoft services (see screenshot). Now finally click Disable all button.
Step 4 – Press OK to register the changes made then restart the device for finding out the faulty programs.
Way 3 -Through CHKDSK Command
Step 1 – Type cmd in the Cortana search field and put in a right click on the result that comes into view. Out of the options choose Run as Administrator.
Step 2 – Type the below command in the black panel of the Command Prompt. Lastly, press Enter to initiate the disk scan for errors.
chkdsk /f /r

Once the scan is over, the OS will itself repair the faulty areas and hopefully, you may not receive Sihost.exe Unknown Hard Error.
Read a full guide here – How to Check Faulty Drives with Chkdsk in Windows 10.
Way 4 -Through SFC /Scannow Command
Step 1 – Here also, first of all, open elevated Command Prompt. So, type cmd on Cortana and then press the keys Ctrl + Shift + Enter altogether.
Step 2 – Now either type or copy-paste the given command.
sfc /scannow
This command actually scans the entire system and fix the problem, if any.
Know more about this built-in tool SFC /Scannow, DISM.Exe, CHKDSK Windows 10.
Way 5 – Repair Drivers
If Sihost.exe Unknown Hard Error still persists then fixing all the drivers might be a way out. Any sort of old, absent or incompatible drivers might at times be the reason for these type of PC problems. In this case, you may download any of the professional driver troubleshooters available in the market to even sort out this issue.
Final Words
Hopefully, with the above ways, you can pretty much easily bypass the Sihost.exe Unknown Hard Error in Windows 10. We suggest trying each of the methods as either of them can solve the problem. These solutions also bring relief to the users who face blue screen of death along with this error dialog.