Few users complain that Cortana won't close on Windows 10. When they start computer, the digital assistant opens automatically and after clicking its icon on the taskbar it doesn't disappear. The only way to keep it quiet and shut is restarting the PC. This annoyance occurs every time after the startup moreover Cortana or Mic settings fail to work for a solution.
Thankfully, you can fix Cortana Won't Close in Windows 10 very easily. Running the Start menu Troubleshooter works like a charm and prevents the reoccurrence of this error again. See workarounds for another similar issue – Start Menu and Cortana Unresponsive in Windows 10 – Latest Fix. Follow the process –
Cortana Won't Close in Windows 10 Workaround
Step 1 – Download Start menu troubleshooter and launch it by clicking its icon from browsers bottom toolbar. Once the Troubleshooter's wizard appears, click on the Advanced link to see the ticked option Apply repairs automatically. Now select Next.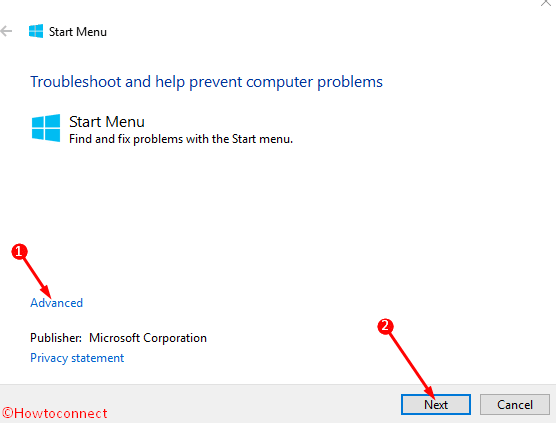 Step 2 – It will scan for the issue for few moments then you will find that the problem no longer exists. It will show the reason Tile database is corrupt with Fixed sign.
Many times, you might find problems with the search functionality of this voice assistant. In this scenario, the guide – How to Fix Cortana Search Refuses to Work in Windows 10 would help you to come out.
If you are not interested in the Cortana's features and functionalities then you can disable it very simply. Follow the instructions in this write-up – How to Turn off Cortana in Windows 10 PC.
follow the Solution of One more annoyance with this tool – How to Fix Bing Search Opens up Abruptly on Windows 10.
Closing words
You have seen how easy the solution for Cortana Won't Close in Windows 10 is. Now you will not need to reboot the system all the time to make the digital assistant calm. Hopefully, this method will help you but when finding any issue, do a comment below.
Repair any Windows problems such as Blue/Black Screen, DLL, Exe, application, Regisrty error and quickly recover system from issues using
Reimage
.