Facebook has brought incredible 'Search Graph' Tool for specific searching exercise. Whatever, you have shared or liked on Facebook wall, all will be part of search result. Certainly, it won't be fair to peeping others concerned matter without their proper permission to display.
Consider, you have liked or shared intimate matter to your close friends on Facebook pages, later on someone search similar conditional issue. As a result,  your shared things appear on 'Facebook Search Graph'. Situation like this will embarrass you to how to react. Being smart to prevent such precarious situation, you have to apply some changes in your Facebook account. Now, I am about to show the way of ' How to stay safe from curious eyes of Facebook Search Graph'.
Open your Facebook Profile page then after check out the pages you liked. Now pick awkward matters from every section and unlike all of those. Undoubtedly, it tough task to pick and delete the countless conversation from your Facebook Profile page. When you go with Facebook Activity Log method, above act could be done easily and effectively.
 Log in to your Facebook account then access Privacy Settings option. Click on 'Privacy Settings' options to open setting windows.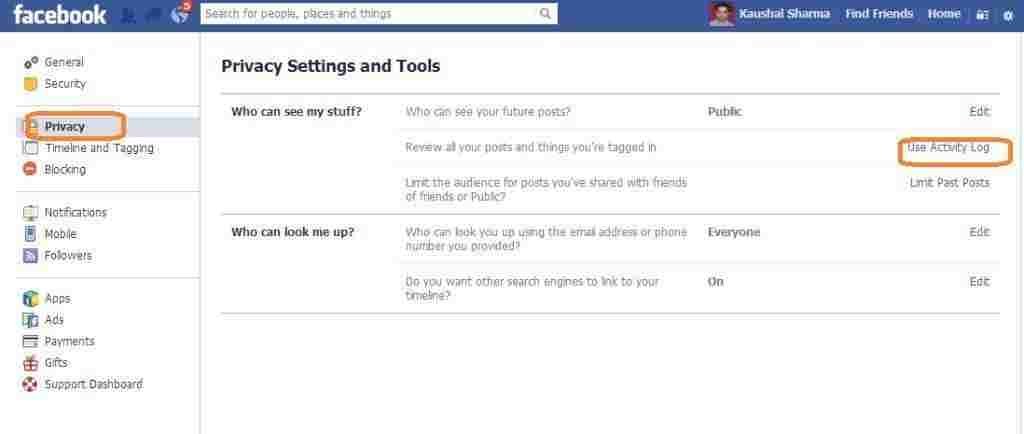 Then pick and click on Facebook Activity Log page.  It will display all things you have liked or shared day-to-day basis. 

On Facebook Activity Log  page,  you find Two Drop Down Menu next to each story. The first Menu lets you to adjust Privacy issue and the second drop down menu controls to show story on Timeline. It also gives an option to hide, allow or remove from Timeline page. 
Indeed, these precautionary measure will be enough to stay protect from preying eyes of Graph Search Tool. Just apply these setting on your Facebook account and stay protected on privacy matter.