Windows 8.1 Users can pin, minimize windows store apps to Taskbar, and access Taskbar on Start Screen after obtaining new update on their PC. Many users like this enhancement but, some of them might not like to see metro screen apps on Windows 8.1 Taskbar. Here comes vantage given by Microsoft using which you become free to opt whether you want to show Windows Store apps on Taskbar. You can disable the appearance of Windows store apps on Taskbar using Taskbar properties. Here we are presenting Windows 8.1 tips that will guide you to stop Windows Store Apps presence on Taskbar.
Recommended: How to Set Windows 8 as Default in Dual Boot Computer
Follow simple steps to hide windows apps icons from Windows Store Taskbar
Right-click on the Taskbar.
Click on Properties.
Uncheck the box against Show Windows Store apps on the taskbar.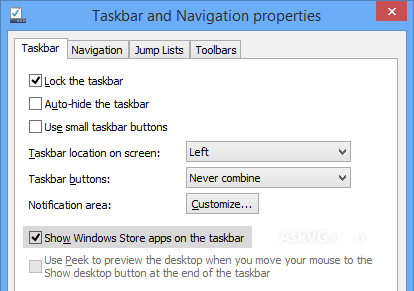 4. Select Apply and then OK.
After doing this you will not be able to show Windows Store apps icons on Taskbar but, you can pin Windows apps to Taskbar.
But to stop from showing Store Apps on Windows 8.1 Taskbar will also remove minimize button from the metro apps titlebar. In this latest Windows 8.1 update, you find a new title bar on Metro apps having Minimize and Close buttons. When you uncheck the option given in Windows 8.1 Taskbar properties it will also clear minimize button from metro screen apps titlebar. Further, you could get access to taskbar on metro screen, but couldn't metro apps from Taskbar.
You could do its reverse too. If you wish to see Minimize button in windows apps titlebar and Enable taskbar in windows apps you only have to follow the above steps that I have mentioned earlier and check the box against Show Windows Store apps on taskbar.
Hope you will like this …
Read: