Microsoft has released a new package of update  KB2919442, KB2932046, KB2937592 and KB2938439 for Windows 8.1. This update comprises new features, new functions, beautiful user Interface and bug fixes. We have discussed earlier what is new in this update. Users are impatiently downloading this update. But few users are also getting error messages as they installing the fresh update on Windows 8.1 PC.
Few users complain that after installing a few minutes it shows error code 80070020, 80073712, and 0x800f081f. Here we will discuss the solution how you will get rid of these errors.
How to Fix Errors 80073712, 80070020, 0x800f081f on
Windows 8.1 while installing updates
1. At first, troubleshoot Windows update. For this write Troubleshooting in the charm search and click on the troubleshooting. A window will open. Click on link Fix Problems with Windows update. Further, follow the instructions you get. Now try to a fresh install. If it doesn't work follow the next step.
2. Disable your Firewall and third-party Antivirus software if you have on your PC.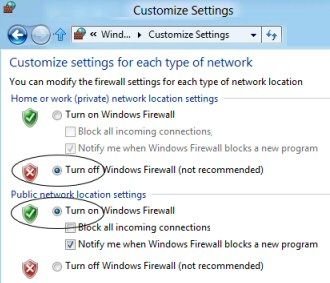 4. Go to Control Panel and stop Windows Update.
5. Open File Explorer C:\windows\  (or the drive where Windows 8.1 is installed) and rename SoftwareDistribution Folder. Restart your PC. Enable the Windows Update and download it again.
6. Place your Windows 8.1 disc and mount .ISO run the setup again.
7. While setup is running select the Windows repair option which could solve the issues. Write Product key of your OS. After restarting several times Windows 8.1 will be installed and repair all the issues on your Windows 8.1 PC.
These tips will prepare your PC to update your Windows 8.1 and to update Windows on your PC. If you are still getting errors you will certainly be successful by following the fixing tips below:
1. You have to cleanup the files corrupted during Windows 8.1 update installation.
2. Open Command Prompt with admin.
3. Type Dism / Online / Get-Packages and press Enter. Now you can see the list of corrupted files in command prompt.
4. Navigate to Control Panel – Programs and Features – View Installed Updates and Select Installed updates.
5. Select the file installed and are corrupted. Uninstall these files. You could find corrupted files by date of Installation written in a column.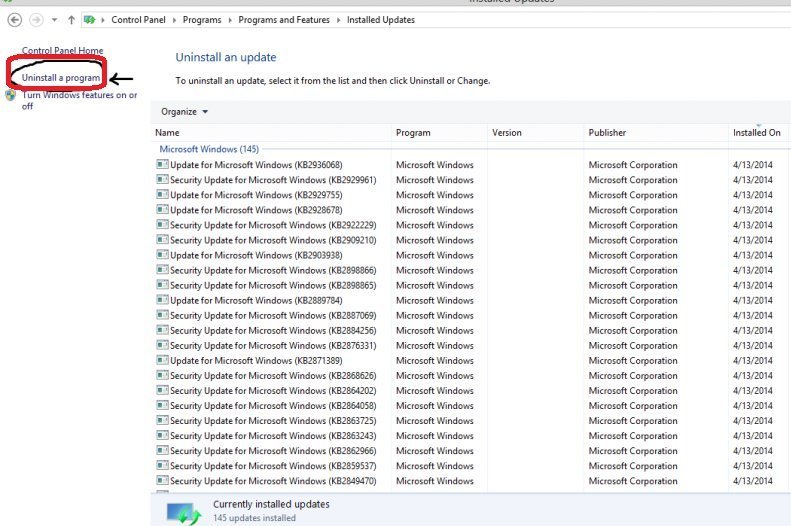 6. If you can't find it reopen command prompt.
7. Type Dism /Online / remove-package/ package_for_KB2919355~31bf3856ad364e35~~6.3.1.14 and press Enter
8. Now type Dism / Online / cleanup-image /startcomponentcleanup and prees Enter.
9. Restart your computer.
10.  Finally , you have to download KB2919355 files and install it manually in your PC.
Download KB2919355 files for 32 bit system by following this link –
http://www.microsoft.com/en-us/download/details.aspx?id=42327
64 bit system – http://www.microsoft.com/en-us/download/details.aspx?id=42335
and Windows Server 2012 R2 update
http://www.microsoft.com/en-us/download/details.aspx?id=42334 .
After downloading files from the above links installed it into your PC. Restart your PC and Enjoy the Updates .
If you found only 80070020 Error in your PC  fix it by following two Different Way.
Manual Solution
1. Open System Restore Settings. For this Go to Control Panel and write System Restore in Search Box at the top right area of the control panel window. Click on Create a Restore Point.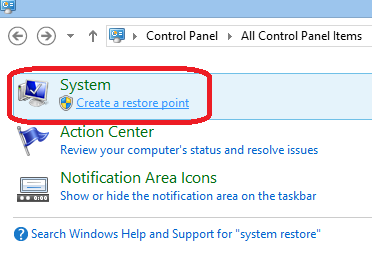 2. You will get a dialogue box. In this dialogue box Click on System Restore Button.
3. On the next dialogue box click on Next.
4. Now choose a restore point (Earlier date or time) and click on Next.
5. Time and again click on Next option until it will restore your system.
6. After restore it will restart.
Now window will automatically download and install updates.
Automatically Solution 
a. Download 80070020 repair utility.
b. Install it on your PC.
c. Scan for the Errors.
d. If any Errors found Click on the Fix option.
e. Restart Your PC.
After it restarts update installation will be held automatically and Error displaying will be fixed.
Now you can either manually install the Windows 8.1 Updates using the links given above or automatically the updates will be installed. Here you can use Check for Updates too.
If you still fail to install Windows 8.1 Fresh update, write through comment so that we could decide what to do further.
Updated News: Microsoft has extricated to patches to fix Windows 8.1 Update issue. Users having Windows 8.1 and Windows RT 8.1 can update their OS from the link here
Read:
Windows 8 File History Backup Details – A Complete Guide
Repair any Windows problems such as Blue/Black Screen, DLL, Exe, application, Regisrty error and quickly recover system from issues using
Reimage
.