Read:
How to create Shutdown, Restart, Sleep Shortcut in Windows 8

Windows Media Player is a media player which allows users to play audio, stream and watch video and view images on your Windows 8 / 8.1 system. This application is preinstalled on your PC and you only have to open media files. At times Users get issues in windows 8 and windows 8.1 Windows Media Player. It might start showing error message concerned with codecs, libraries, audio, video, streaming, images, media burning. To fix any issue on your Windows media player you have to run troubleshoot. So today i will guide you to Troubleshoot Windows Media Player on On Windows 8 /8.1 with few steps: –
Fix Windows Media Player All issues on Windows 8 / 8.1
1. Write Troubleshoot on windows start screen.
2. Open Troubleshooting from found results by clicking with mouse or tapping on touchscreen.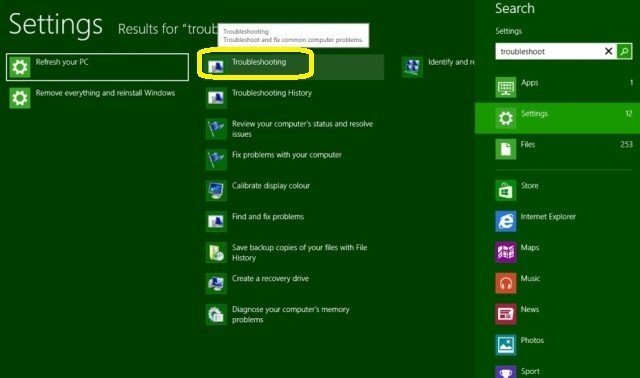 3. Click on the View All option which is present on the left side of your new window.
4. A new list will open named – Control Panel \ All Control Panel Items \ Troubleshoot.
5. Click on the Windows Media Player Settings.
6. A dialogue box is on your screen name Windows Media Player Settings. Check the box against Apply repairs Automatically. and click on Next Button.
When you press Next the Troubleshoot will start repairing Media Player and solve the issues related to codecs, libraries, audio, video, streaming, images, media burning, and other media information related to your Media. Be patient, repairing will take some minutes depending on your system speed. After completion of repairing restart your PC and enjoy Media Player.
Repair any Windows problems such as Blue/Black Screen, DLL, Exe, application, Regisrty error and quickly recover system from issues using
Reimage
.