Moborobo is an application that caters to the need of managing files in Android and iOs devices using computer or laptop. It is essentially useful for android phone where none such application is officially available and although iTunes is available for iOS. It is a tedious task to use it owing to sophisticated settings are required to operate. It is a free app and there is nothing more required than the application itself controls your files except when you wish to use Wifi that needs some settings or rooting. The app is very useful for those who seek to accomplish the file managing task through an easy interface and without much configuration.
The application interface is user-friendly and like any other PC suits it does not have any complicated settings to be done. The instruction on usage is also provided in the help menu for reference.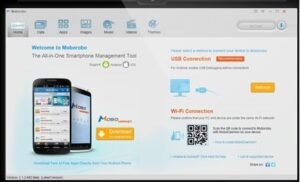 How to install Moborobo
You have to install the drivers for this application on your phone. There is a list of compatible devices given at the downloading website. This application can also be used by connecting your mobile phone to your computer using USB cable of WiFi if it's rooted.
How to use this App
Managing Contacts: –It is a cross platform application that allows an easy transfer of contacts from your Android and iOs device to your computer. Also the moving of files between Android and iOS is an additional feature. This comes as an important feature when you switch to a higher version of your phone as in iOs which requires different iOs as it keeps updating.
Downloading Wallpaper, App and Ringtone: There is a Moborobo resource center where you can find wallpaper, ringtone, games and apps for your phone. You can download them easily. Again, you should note that all the resources present here are free to download and cost you 2G/3G data traffic. Here, you can install, uninstall,update or change the path of the apps on the apps tab provided here. Different photos, wallpapers and music can be managed on the image and music tab. This allows saving your network data for better use.
SMS through Desktop: Moborobo allows you to send and reply messages through your computer to your friends which you can find at the Data tab. If you find typing on your mobile irritating you can use it to send messages to a group of friends and others. There are two other things as well at the Data Tab which are Contact Manager and a Call record logger. The function of contact manager is to manage all the contacts by all, grouped, recent and the lists created by you.
File Management: You can manage your multimedia files such as music, images and video using separate tabs provided for them. It is very convenient and drag-drop function is integrated with it to make it easier.
Pros:
Android and iOs both can be used.
Jailbreaking or rooting is not required.
All files can be accessed through this single application.
Multiple Features are present.   
Unwanted applications can be removed in bulk.
Live Streaming and Screenshot Capture.
Secured and swift database backup and recovery.
Fully Functional App Manager.
Cons:
Some lags while app is operating.
Driver installation is time taking and tedious.
Conclusion:
Moborobo is the most Effective Android/iPhone Management Suite for Android/iPhone Vendors and Users. From an overall point of view it is a great application for managing your device files especially for Android based devices. It has adequate features that are required for any file management application. There are some shortcomings of this application but it can be ignored as they are only momentary during the start of this application.
Get Moborobo here