Previously we have written on Windows 8, reset, refresh. Now I want to say that In Windows 8,  System restore tool has been modified with latest enhancements to make it easier than earlier Windows versions. System Restore in Windows 10, 8 allows restore it in previous positions without changing document files or personal settings. Occasionally, you run new software or hardware drivers in your window 10, 8, it influences your system settings along with creates hindrance on already installed software. Actually, System Restore in Windows 10, 8 is used to restore system settings and repair system registry files into their original condition. As a result, your windows 8 computer could work speedily for a long time. Earlier we have discussed on  How to Backup and Restore in Windows 8 By RecImg Tool. Today we talk about How to Set new Restore Point in Windows 10, 8?
System Restore in Windows 10, 8
Set new Restore Points
Although restore point feature in Windows 10, 8 creates automatically each time, but you can also configure manual restore point.
First Step
For Windows 10
Tap on the start, write create a restore point and as soon as the same with an icon becomes visible in the result section, click on it.
For Windows 8
Firstly you have to start System Restore Settings. So press Shortcut (Windows key + F) to launch Windows 8 Metro search window.
Here type the keyword like "system restore" in the search box and click on Settings option.
Now instant search results will be displayed in the left panel. Click on Create a restore point link.
For Both Windows 10 and 8
Second Step
A new dialog box (System Properties) will show. Here, click on the System Protection tab from the upper menu panel.
Now you need to switch on system protection feature inside your system hard disk.
Select that drive where your Windows 10, 8 has been installed. Then click on Configure button.
Here check the tab – turn on system protection option to enable it.
Now set desired spaces on your hard drive to work system protection feature from Max Usage section.
Even you can also remove previous all restore points of this drive. So click on Delete button.
At last click on OK and Apply button to save new settings.
Third Step –  
Next, you have to create a fresh restore point in your windows 10, 8 computers. So click on Create button.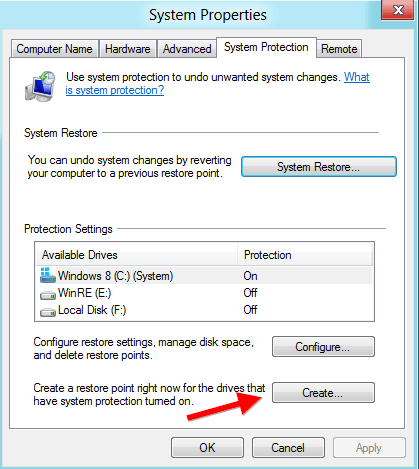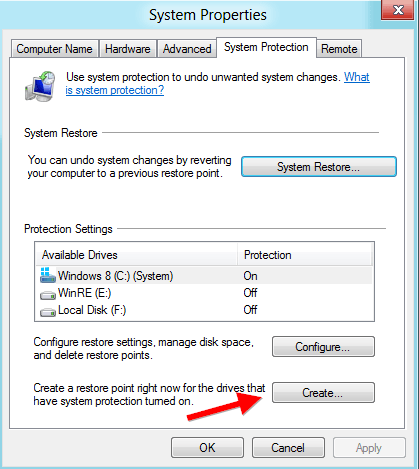 A new pop-up box (System Protection) appears before you.
Here, you have to type description of the new system restore point and click on Create button.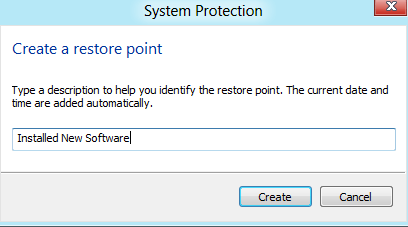 Now Windows 10, 8 will generate the system restore point repeatedly in few moments.

Once it completes successfully, you get a new pop-up box as below image.
How to Restore Windows 10, 8 on Restore Point
If you are willing to restore from newly set system restore point then click on System Restore button from System Protection tab.
Just a new window ( System Restore) comes up. Here hit the Next button.
From Next window, choose preferred restore point which you wish to restore your Windows 8 system from.
After selecting it, click on the Next button.
Now you will get a new window, and it asks you to confirm your selection. At last, click on Finish button.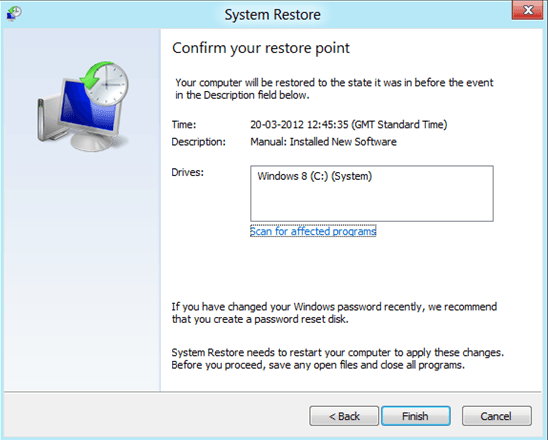 Thus, your windows 10, 8 computers will be restored on opted system restore point automatically within few minutes.