Tattoo Tester is a Windows 8 App that helps you to choose awesome tattoos after testing how it would look on you. You will get to know which tattoo to get and where to place it. Tattoo Tester allows you to upload a photo of yourself and choose a tattoo design and place it on your body. You can see the tattoos from different categories such as star, tribal, lower back, classic, butterfly, etc. The first five tattoos of all the categories are free. You need to buy the tattoos if you want all of them.
The app allows you to add a text in 8 different fonts. You can even share your picture via social media sites. Tattoo tester app provides tattoo design for men only.
Recommended:
Life Moments Windows 8 App to Enjoy Beautiful Moments with Friends
Best 4 Tools for Management of MP3 Songs Huge Collections
Make Photos Cool, Amazing Using 10 Windows 8 Photo Editing Apps
How to use Tattoo Tester Windows 8 App
Install this app from the link given below or own it from the Photos category of the Windows Store.
The homepage will show all your creations. If you have not created anyone yet, then only sample image can be seen.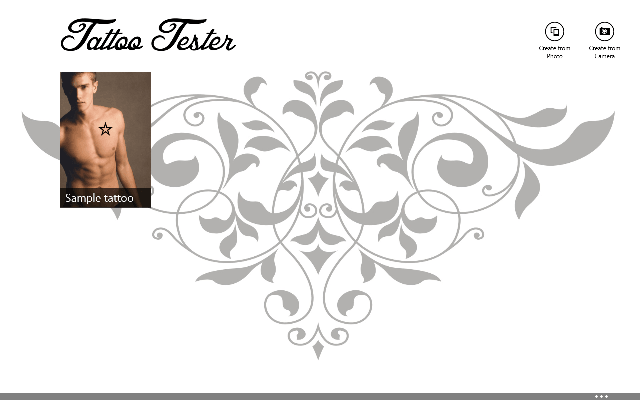 On the top right of the screen you can see two options: Create from Photo and Create from Camera.
Create from Photo allows you to upload your photo from your storage device and Create from Camera will capture your picture through webcam.
Choose your desired picture.
Select a tattoo from the categories given.
Do the necessary modifications as per your choice.
Click "Save" to save your photo.
Other Options
Add Text – You can add a text to your picture. 8 different font styles are accessible to modify your text.
Add Tattoo – You can multiple tattoos to a picture.
Flip – You can flip the selected tattoo or text with this option.
Opacity – Set the transparency of the tattoo or text as per your choice.
Reset – Reset the selected tattoo or text.
Rename – Give a new name to your picture.
Crop Photo – Crop the uploaded photo.
Share – Share your photo with your friends.
Save – Click "Save" button and save the image on your storage device.
Tattoo Tester App Features
The app is free of cost.
Get to know which tattoo suits you and where.
Tattoos available in different categories.
First five tattoos of all the categories are free for.
Add multiple tattoos to your picture.
Add text to your tattoos.
Different font styles are available.
You can flip the tattoos.
Opacity can be changed.
Can get live tiles on the Start Screen.
Print your favorite image using Device Charm.
Share your pictures to the social media sites.
Conclusion
Tattoo Tester is the best app for windows 8 for the tattoo lovers. If you are new to the tattoos world, then surely this app will help you to solve your puzzled mind. Enjoy is placing the tattoos and get the best compliments from your friends when you share it with them. So install Tattoo Tester app to your Windows 8 computer and enjoy the new look of yours.