Scribd is a Windows 8 books and reference app that allows the book wormers to surf and read countless books on the app. Swift retrieve of more than 300,000 books from more than 900 publishers in every category is the best quality of the app. Search your desired books from the search bar. You need to login to your Scribd with your account or Facebook Account to download the books either in the PDF or Text format.
You can customize your reading experience with the options available. Add your favorite books to your library and locate new favorites from the editorial collections. The app also avails user contributed documents and written works. The app is applicable worldwide and you can read as many books as you want.
Recommended:
How to use Scribd Windows 8 App
Install the application from the link given below or own it from the Books and References category of the Windows Store.
The Home Page explores the books of all the categories.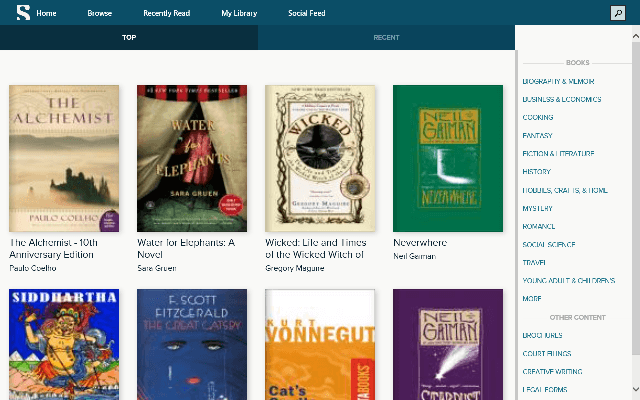 Click on the Browse tab and explore the sub categories and experience a wide range of book collections.
Select your opted book.
Customize your reading experience from the display option tools.
You can even get the summary and review of the book.
Click on the "Start Reading" button to get started with your reading experience.
Click "Add to Library" to add the book in your library.
Other Options of Scribd Windows 8 App
Display Options – You can change the font style, change the text into day or night mode, and change font size. Save the changes done and continue your reading.
Table of Contents – It displays the contents of the selected book.
Bookmarks – You can bookmark your book with the bookmark sign.
Search – Search the required boo from the search bar.
Share – Share your experience with family and friends via social media sites.
Add to Library – Add your favorite book to your library.
Scribd App Features
The app is not chargeable.
It is the largest digital library.
Swift retrieves more than 300000 books from more than 900 publishers.
Read as many books as you want.
Pin your liked book to the side screen.
It allows user contributed documents and written works.
Conclusion
Scribd is the best Windows 8 app for all the book wormers of the world. Yes, for the world because you can access this app from anywhere around the world. Lots of books at one single place definitely made me excited to explore my favorites among the many. You will appreciate this application if you love reading. Install this app now and get an outstanding experience of reading and share the same with the world.