Do you want to know your IQ level? Then it is for you. IQ test is an android app that is for checking your Intelligence Quotient. This is an interesting app which will entertain you a lot and this will make your time easy.
This IQ test is an updated form of previous IQ test app. This updated form is stylish, big and it has new sizzling questions that hit your brain. This app is free and easily downloadable from Google Play. This android app is available in its BETA version and is listed in top 30 free games in Google Play.
This type of IQ Test game is important for those persons who want to test their brain. Some people are fond of and enthusiastic to face a challenge. This app is exactly for them. This app offers several good questions and tasks which checks the brain activity of user.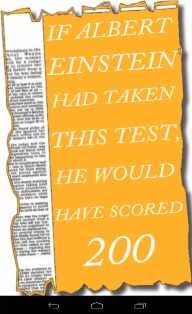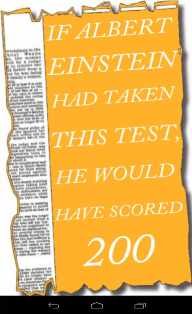 The new IQ Test has some more interesting feature :
IQ Test is simple to use. Its user interface is very smooth.
It has 8 new mind teasing questions sets.
It has the facility to set the timer for the test.
You can flag any questions for further review.
You can study your progress report in the Intelligence Quotient Test.
It has the facility to recheck your previous completed IQ Test.
In this IQ Test the answers are given in the last for the test. By the help of these answers you can remind your faults and get the right answers for future test.
Now you are excited to get this fantastic app. To get this interesting app you can simply and easily download it from the given link. The link is
About IQ Test
After downloading the app you will see an icon on your screen. Just simply open it and you are ready to play the Intelligence Quotient Test. You can easily test your brain and Intelligence Quotient level. You have to give the answers of asked question which you know and at last it will summarize the entire test and produce your IQ level with correct answers.