VLC players have re appeared in the iOS store after a long time of two years. It was removed from the app store due to its license problem. With certain changes it has proved to be one of the best video players in iOS systems. However it is available in the Cydia store, a limited user base for the e iOS users. The real fact is The VLC app has bounced back into a proper app in the Store.
It can easily be compared with the old app as the interface and the features of the media player are almost same. Nothing is changed drastically. The.
One outstanding feature is the one can easily change the brightness, contrast, and saturation etc. anytime while watching the video. With features like iTunes file transfer and Dropbox integration, one can easily watch or get any video easily from the desktop browsers by using web servers.
iTunes are very helpful in getting the videos for the VLC  but there are other handful of options to get videos. Options for getting the videos can be achieved from the Road icon on the main page of the app. Dropbox users, can just by add the videos to the Dropbox and can easily download the videos in the app from there. VLC also supports the Wi-Fi upload; network Streaming, and imports from the web servers.
The features of the VLC are expected to be more satisfactory to the users like the app supports various subtitles in different format. One can easily play the app in the background and enjoy on the audio. On the grounds of Security the app has enabled a feature called App-specific passcode lock to prevent someone else to browse and check the videos in the VLC app.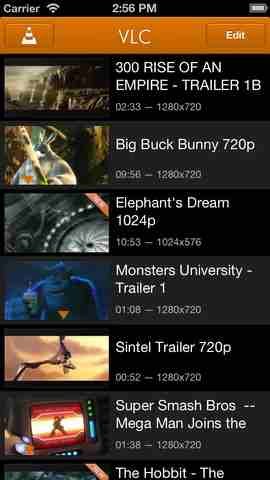 Various video formats like avi, mp4; WMV is easily works in the VLC app. These are also the most popular video formats; hence the app proves very useful. The screen aspect ratio can easily be changed and the volume can be controlled from the bottom of the screen. The speed of the video also can easily be controlled by the user.