Users have found one of the big puzzles in Windows 8.1 as missing the system image backup feature. But this reality isn't completely correct because you can still create system images with a PowerShell cmdlet command. It is good news for windows 8.1 administrator users and it lets them create and restore system image backup without using third-party tools like Norton Ghost. The method of system image backup contains a full snapshot of the system's hard drive as well as user files and settings.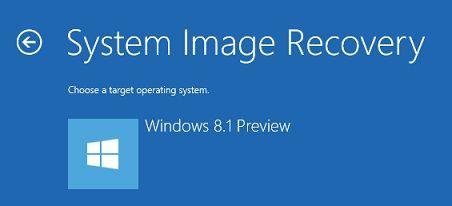 How to Create a System Image Backup on Windows 8.1
First, you will need to connect an external USB drive (pen drive, USB hard disk) with your computer or laptop which will perform the role of the backup drive. You can also back up data to a specific shared folder over the network or system drives of your system.
Next, start PowerShell command with administrator privilege. To do it, at first, press the shortcut (Windows Key + X) and choose Windows PowerShell (Admin) in the menu panel. Besides you can also search for this command using search charms and press right-click on it. Next, select Run as Administrator option at the bottom panel.
Under the PowerShell command window, run the following command to start the backup of selected hard drives to other targeted drives.
wbAdmin start backup -backupTarget:E: -include:C: -allCritical -quiet
The above command signifies the Windows system is ready to backup the data of C: drive into the E: drive. The -quiet switch informs about the cmdlet command which is used to run without prompting you.
Certainly, you will have to put back the values with your individual favorite values. For example, in place of E: drive for the system backup, you may use another drive where you wish to save the system image too.
If you want to backup to a number of computer drives or partitions in the computer image then you will have to add them with following comma-separated command
wbAdmin start backup -backupTarget:E: -include:C:,D:,F: -allCritical -quiet
You may backup to a shared folder over the network using following command
wbAdmin start backup -backupTarget:\\remoteComputer\\Folder -include:C: -allCritical -quiet
How to Restore a System Image Backup on Windows 8.1 
System image backup can not be restored from Windows if you have repaired the Windows system completely ever.
To restore system using system image backup, you will need to boot from Windows 8.1 bootable disc (recovery disc) firstly after configuring the BIOS settings.
While the installation process begins, click on the Repair your computer option.
Click on the Troubleshoot tile to work with the several troubleshooting options.
Click on the Advanced Options tile to work with the options which are proposed for advanced users.
Next, select the System Image Recovery option to recover using a particular system image backup.
Then Windows will do the restore process of system image backup after connecting the external drives (USB Pen drive) which have contained already the system image backup to your computer.
Conclusion
Microsoft has undoubtedly cleared this window 8.1 hidden feature with easy functionality. So average users may access Windows 8. New File History backup tool and Refresh or Reset features. Fortunately, Microsoft hasn't removed this feature totally, so administrator users can ready to make and restore system image backups on Windows 8.1 preview without third-party software need.