Xender is a free android app which lets you transfer different types of files, music, videos etc.  from one Smartphone to another without any hassle. Imagine what you feel when you are transferring some files, songs or movies to your friend and it is taking too much time. It can really frustrate anyone. It is all because you are transferring the files using Bluetooth device inbuilt in your device. You can overcome this problem by using Xender uses WiFi to share one file from one device to another and is very fast.
Xender makes the transferring process very fast. You will be amazed by seeing its speed. The moment you click on send, it will be reached your friend within seconds. You can install this app by searching for Xender on the Google Play Store.
How to Transfer and Share Apps, Files using Xender  Android App
Once you have installed this app on your device, click on its icon to open it. A neat and clean interface as shown in the screenshot below will open up.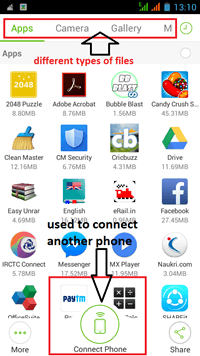 In the screenshot above, you can see a rectangle within a red circle at the top. It consists of various things like Apps, Gallery, Media, Camera, Videos etc. which are present on your Smartphone. You can select them separately.
At first you have to click on Connect Phone shown at the bottom. It will open up a new interface which is shown below: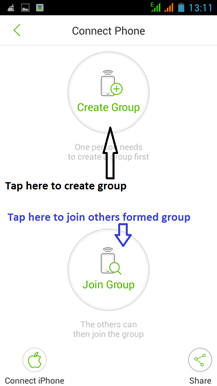 There are two options present to the users. Either they Create Group or Join the already created group. Both Functions are just to connect two Smartphones through WiFi.  There is an option given to the users through which they can connect to iPhone Users. You can see that icon present at the left lowest part of the above showing screenshot.
Share icon present at the right bottom part is just to share this app on FB, Twitter, Google+ etc.
While you opt for Join group, wait till the other device come in your radar and then tap on that device. The two devices would be connected then. Now enjoy sharing of files, apps, big movies etc. from your device to another device.
Key Features
Everything could be sent: – Files, Pictures, Music, Videos and even apps.
Sharing is extremely fast: – Even Big Files are sent within seconds.
Provides group sharing up to 5 devices concurrently.
Supports Both Android as well as iOS.
Conclusion
Xender is a very nice app especially when you are looking for an app which makes the sharing of files a way lot easier. Even Movies of big size are transferred within few minutes. It requires no cables, no internet, and no data usage and is totally free of charge. Do install this app on your Smartphone and enjoy sharing of big files without waiting too long.
download Xender Android App from here