Firefox Nightly 57 now introduces its users a new option that allows you to Turn On / OFF legacy Extensions. The extension that works according to the techniques prescribed in a document is termed as legacy technology in the browser. Firefox Nightly is the first variant of the version 57 of this web browser. As a current user of this edition, you might have experienced that it disables all legacy extensions.
This means that an add-on not using WebExtensions API will not be available for Firefox. Even It exists in Mozilla add-ons repository and installed in the web browser you could not find anymore. It is noteworthy the disabling was pre announced by Mozilla. Since Firefox is a user-friendly browser, it has the provision to bypass the restriction that blocks the usage of legacy extensions. See the steps below –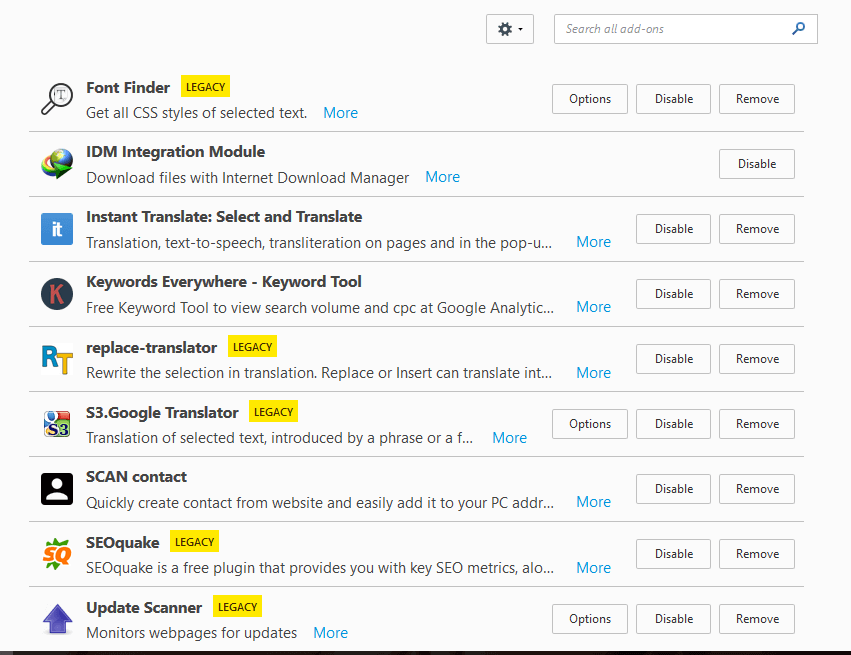 Turn On / OFF legacy Extensions in Firefox 57
Just like the previous version you can control it through the configuration page.
Step 1 – Open Mozilla Firefox and type or copy and paste the given data.
about:config

Step 2 – Then the browser displays a warning message because you are about to meddle with the configuration of the browser. But proceed further by hitting the button I accept the risk!.

Step 3 – On the new appearing page type or copy and paste the under given.
extensions.legacy.enabled

Step 4 – This will list the preferred option with respect to Legacy Extensions.
Turn On legacy Extensions in Firefox 57
Step 5 – In order to turn on Legacy Extensions double click on extensions.legacy.enabled and reset the value to True.
Turn Off Legacy Extensions
Step 6 – Simply double click the value of extensions.legacy.enabled preference and set it to False in case you want to turn off Legacy Extensions.
See another article for this browser – How to Turn On / Off Screenshot Tool in Firefox.
Final note
The new version Nightly does not feature the legacy extensions directly on the browser. Hence your add-ons go meaningless after updating the browser to the version 57. But you can adjust the legacy with the help of these steps. Therefore try these steps to Turn On / OFF legacy Extensions in Firefox 57 as and when there is a need.