You might have already installed the Security update for February 2022 and experienced certain changes due to the patch. KB5010342 is the cumulative patch for Windows 10 21H2, 21H1, and 20H2 which we covered yesterday. Several users are getting troubles and torments from this update and want to remove it from the machine. So, here we are with the ways to uninstall KB5010342.
You can remove this update from the Settings app and using cmd command in straightforward ways. Sometimes, an update gets stuck, be too rigid to be uninstalled, and shows a certain error message. In this condition, you can go to safe mode and safely uninstall the patch without any hassle. See – How to change the roll back period to 60 days in Windows 10.
Uninstall KB5010342 from Windows 10
Here is how to uninstall KB5010342 from Windows 10 21H2, 21H1, and 20H2 –
Way-1: Simply using the Settings app
If something is screwed up on Windows 10 after installing this update then the Settings app facilitates to remove the rollout. This is one of the easiest ways to uninstall an update, so, go with the steps below –
Press – Winkey+I.
Select – Update & Security.
On the next Settings page, click on – View update history.
Click – Uninstall updates.
A window from the control panel will come out showing all the installed updates in a list. On this, find KB5010342.
Highlight the patch and select Uninstall.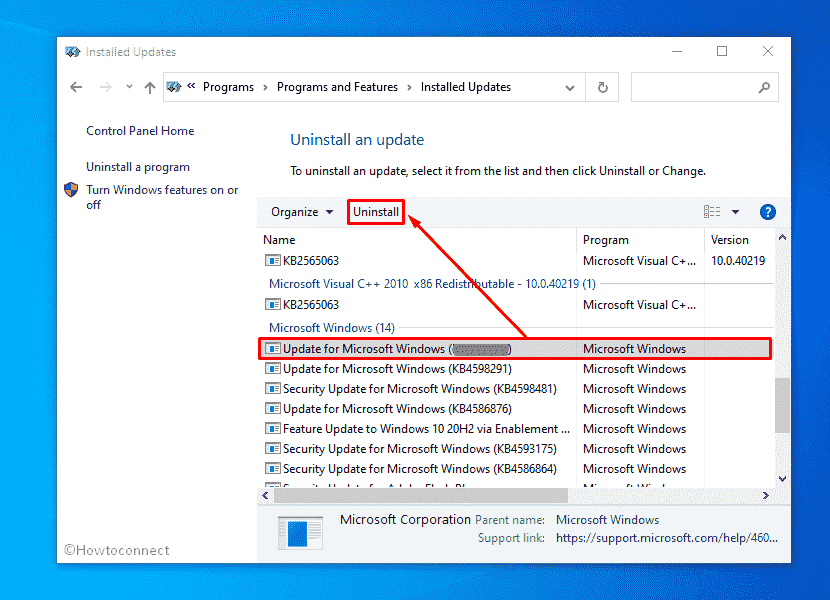 Select Yes if a verification prompt shows up.
Further Windows update disable tool will be useful if you are getting issues.
Way-2: Directly from Control panel
This method is only a slight bit different from the previous one as you will directly reach the View installed updates Windows without the assistance of the Settings app through this.
Press – Winkey+R.
In the Run dialog box, type – appwiz.cpl.
From the window that appears, click on – Installed updates.
Locate the February patch and right-click on it.
Select – Uninstall.
Click Yes on the verification prompt.
Way-3: Via Cmd command
If the above ways don't work then you can use cmd command as an alternative to uninstall KB5010342 from Windows 10 21H2, 21H1, or 20H2. However, on Windows 10, the combination of LCU and SSU is installed simultaneously, luckily, the command is capable of removing the cumulative update. Follow the steps –
Press Windows and R On the keyboard altogether.
Type – cmd.exe.
Now press Ctrl + Shift + Del.
On the Users Account Control, select – Yes.
Type wusa /uninstall /kb:5010342 on the command prompt.
Hit – Enter.
A confirmation dialog shows up; click on Yes.
Wait until the update is completely uninstalled.
Way-4: If you fail to uninstall KB5010342
You may be stuck uninstalling  KB5010342 from Windows 10 20H2, 21H1, or 21H2. When you face this problem, you have an option to boot the system to Safe mode and then try to remove the update. This will allow to successfully uninstall the patch so follow the guidelines –
Click on – Search.
Type – Msconfig.
Press the – Enter.
System Configuration window will quickly appear.
Go to the Boot tab.
Select – Safe boot.
Make sure that Minimal is checked under Safe boot.
Click on Apply and then on OK.
A pop appears; click on – Restart.
These steps will dispatch the Windows into Safe mode. You can also see multiple methods in – 3 Ways to Boot Windows 10 Into Safe mode.
Once you are there, press Windows logo & R.
Type – cmd.
Now type the command wusa /uninstall /kb:5010342.
Press the Enter.
Follow the instructions on the screen to finish the installation.
Finally, follow the instructions to – How to Come Out of Safe Mode in Windows 10.
Methods list:
Way-1: Simply using Settings app
Way-2: Directly from Control panel
Way-3: Via Cmd command
Way-4: If you fail to uninstall KB5010342
That's all!!