Windows 10 version 2009 is no doubt a feature-rich update you might think to roll back the edition because of certain issues. After you install v2009, multiple errors might cause you to decide to uninstall the same and downgrade to the previous build.
In case of a problem with the new version Windows 10 provides an option in Recovery Settings during first ten days since the installation. After 10 days, the OS automatically erases Windows.old folder and remove the option to downgrade the version. However, you are still able to rollback using ISO file by manually uninstalling the current build and clean install the earlier.
Rollback Windows 10 2009
Here is how to Uninstall or Rollback Windows 10 2009 –
1] Downgrade using Recovery option
A Recovery option allows you to downgrade to the earlier version without difficulty because previous files and folders get stored as a backup for 10 days. Meanwhile, you may easily locate "Go back to the previous version of Windows 10" under the section. Once the time limit ends, the system automatically will remove the old update related files and folder in order to free up space and button will be grayed out.
Furthermore, if you used Disk Cleanup after installing the update and while doing so Previous Windows installation(s) was checked then the system already wiped out the items. As a result, you won't be able to rollback Windows 10 2009 using the recovery option. So If you are still eligible to revert back follow below steps –
Press Win+I.
When Windows Settings page appears, click on  Update & Security.
Pick Recovery from the left and then shift to the right.
Click Get started located beneath Go back to the previous version of Windows 10.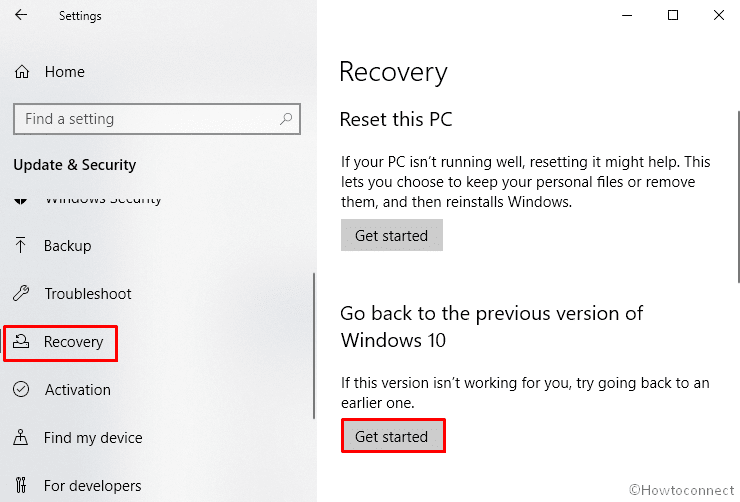 Next pop-up will ask about the reason behind restoring the Windows version. Choose any of them and then click on Next.
The system will ask a few more things, just keep clicking the Next button to start the restoring process.
You can also see this method here – How to Restore Earlier Build in Windows 10.
2] Rollback Windows 10 2009 through Programs and Features
You can easily uninstall the recently installed build by following the below steps –
Press Windows key and R together.
Type appwiz.cpl and then click the OK button.
Once Programs and Features show up in a separate window, click View installed updates from the left sidebar.
Move to the Microsoft Windows section.
Right-click on the build your system has received for Windows 10 2009 and choose Uninstall.
Keep following the guidelines that are coming on-screen and complete the procedure fully.
3] Uninstall the latest build via Command Prompt
You can also Roll back Windows 10 2009 by running a few commands elevated Command Prompt. Steps are as followed –
Click on taskbar search and type in cmd.exe.
When you see Command Prompt at top of search result, press Ctrl+Shift+Enter at once.
Click Yes if a UAC prompts.
When elevated Command Prompt comes into the view, insert the bellow line in it and hit Enter –
wmic qfe list brief /format:table
Now, the system will display all updates installed on your Windows 10 device. Note down the build number related to Windows 10 2009.
Thereafter, execute the below command in that same console to uninstall a specific build –
wusa /uninstall /kb:build number
Note – Replace build number with the identification number of Windows 10 2009 update.
A pop-up will show up asking for final confirmation, press Y key to give consent.
If you want to install the previous version 2004 then manage an ISO image and follow the instructions here – How to Use Rufus to Install Windows 10.
Methods:
1] Downgrade using Recovery option
2] Uninstall Windows 10 2009 through Programs and Features
3] Via Command Prompt

That's all!!