Have you ever thought of something which provides you all the Google Products in one place? Well, Windows 10's Google Red app is a social app which is all in one Google app. This app stores all the applications provided by Google. You can have a wonderful experience of all the Google apps in one single place. To browse anything you can use the Google Search, send or receive emails using your Gmail account, watch videos on YouTube, store your necessary files or folders in Drive, navigate to any location with the help of GMaps, use Google + for social networking, experience Google Calendar, Google Play, Photos and things like that in Google Red.
Isn't it sounding interesting?! If you wish to know more about it, we present you the detailed description of Google Red app. Here it goes!
Must Read:
You need to download Google Red app from the Store and then install it in your system. Go to the link at the bottom to download it.
How to Access Google Red in Windows 10
Step 1
Launch the Start Menu on your screen and execute a click All Apps.
Step 2
Scroll down and click Google Red which is in the G category.
Step 3
Google Red opens up on your screen.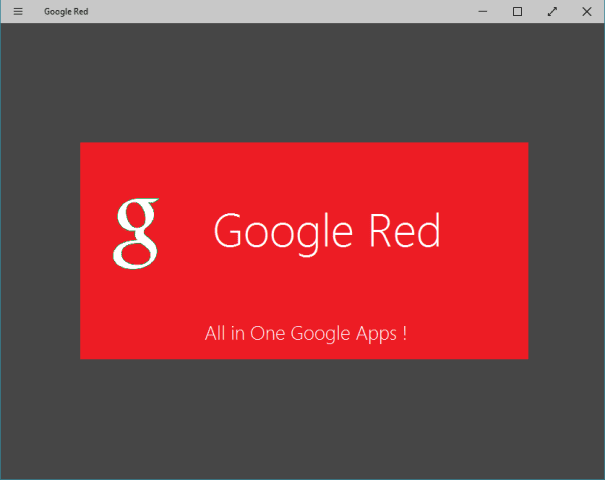 How to Get Access to All the Apps in Google Red
Step 1
When you open Google Red, Google search engine can be seen on the app. To see other apps of the Google, click on the three red-colored horizontal lines of the menu on the top left of the screen.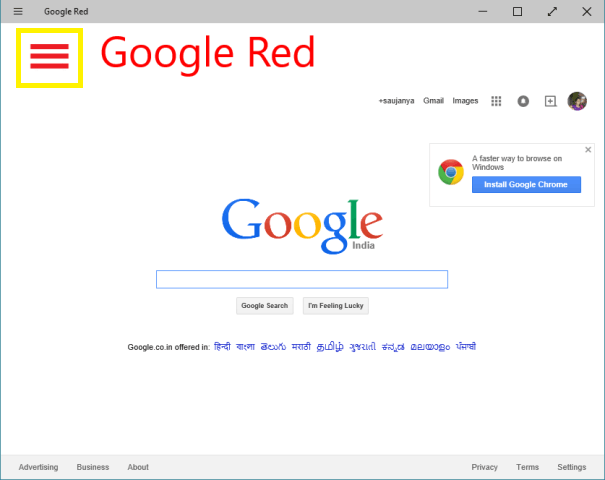 Step 2
This brings up all the apps of the Google. The icons of all the apps are listed and when you click any of the apps, you will see it on the entire screen of Google Red. For example, a click the Google Maps icon prompts the Map on your Google Red screen.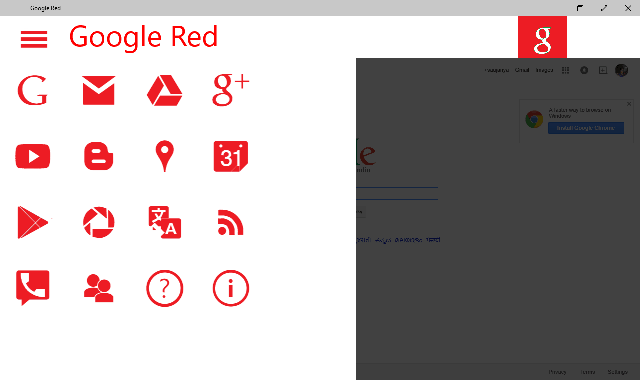 Using Google Red app is very easy. Its smooth and easy interface lets your work done quickly. You have learned how to access all the Google apps in Google Red. Now, in this section we will see the apps of the Google Red.
Google Search
Just like you see the Google search engine on Google Chrome, you will see the same thing here also. You can type your search query in the field and browse the websites you like. To see more options, right-click on the screen and you can see the options in the bottom fly out of the screen. You have buttons of Back, Refresh, and Forward.
Gmail
You can also access your Gmail account in this app. Send or receive emails is very easy. If you are using it for the first time, log in to your Gmail account by providing your username and password.
Drive
Google Drive provides you around 15 GB of free Google online storage so that you can store photos, files, recordings, videos and things like that. Click on Go to Google Drive button to store stuffs on Drive.
Google +
The icon g+ is the Google + icon. Click the icon in the menu list and enjoy the social networking. See the posts of your family and friends and share your stories with them.
YouTube
If you love to watch videos online, YouTube is the best app you will enjoy. Browse your favorite videos and enjoy watching them online.
Blogger
The Blogger allows you to create your own blog and share your posts with everyone. You can keep your blogs updated from here.
Google Maps
Want direction of any place? Use Google Maps. You can access detailed information about the geographic areas of all around the world.
Calendar
Save your important dates in the Calendar app. It also lets you know about festivals and holidays. The new thing in Calendar is now you can Gmail on your calendar. All the bookings can now be added to your Calendar.
Google Play
It is the play store from you can download your required apps. It is an online store for buying and downloading books, apps, music and much stuff like that.
Photos
You can organize all your photos quickly with the Photos app. You can easily organize your Google + albums, photos and also videos with the Photos app.
Translate
Another interesting app is Translate. You can translate any foreign languages into your language. It is very useful in the corporate sector where you need to handle clients from different regions.
News
Get news from around the world instantly with the News app. News from all corners and all facets are displayed in the News app.
Google Account Settings
Google Red also allows you to change your Google account settings. You can change your personal information, check recent activities here.
Conclusion
Google Red is the client app for Google products whose focal point is Apps from Google's family. You will really enjoy this app as your day-to-day apps are present in one place. You can control so many things from one app. Try Google Red and let us know your experience.
Google Red Windows App