Industrial Credit and Investment Corporation of India (ICICI), a leading private sector banking union as well as second largest among all banking union, has larger all round network in India. More than 2630 well-functioned branches and 8003 ATM are indulging in financial activity to facilitate its users. Due to instant banking services it has enhanced user based, not only in Metro, but also in Sub Urban Areas.
As long as people showing faith in Banking service of ICICI Bank so long its responsibility increases. Time and again it brings innovation to protect its user interest. In the way of easing banking, many more decision has been taken by ICICI management. One of them is to introduce banking apps for Facebook user. It is needless to say, today people are techno driven and wanting to connect its dear one all time. Facebook the social media fulfill the desire of common man and surely they will be benefited with ICICI Banking Apps.
Now, question floats how does Facebook Banking Apps work
The ICICI Banking Apps will be helpful in such cases as: –
Display Account Summary
Upgrade debit card
Display Mini Statement
Display Account Details
Making or stopping Cheque book request
Cheque status enquiry
Undoubtedly, ICICI Banking Apps provides complete freedom to get latest account status and other banking services to Facebook user. Now, I am making point-wise exploration;  how to use ICICI Banking Apps?
Login to your Facebook Accounts
Select ICICI Banking Apps and make changes into 'Only me' at the position of 'Who can see posts ……………………….'
Click on Go to Apps to use application
On the next page, Click on Register Now  button.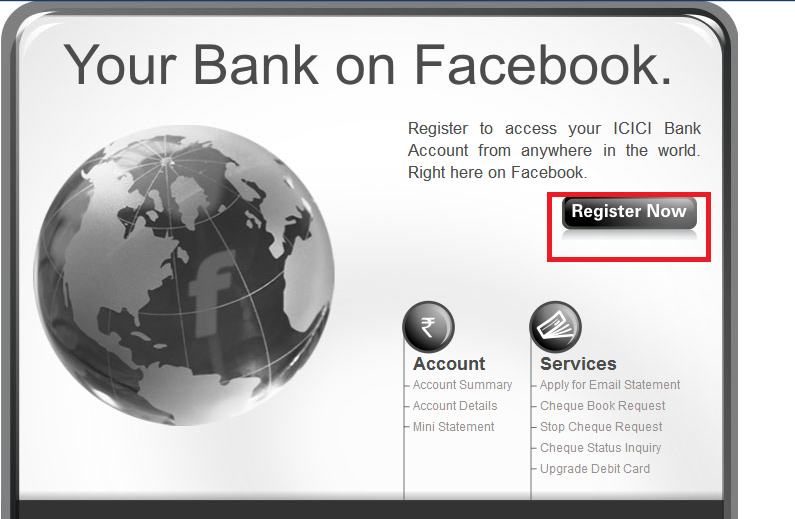 Enter your ICICI Bank Debit Card Details and Pin No. (There is no need to panic about giving Debit Card Details and Pin Number here. Because all the action done by your here are quite protected)
Now set your password and make login through this assign password.