Ways to Use WinMoji and Access Emoji Instantly in Windows. – WinMoji is a freeware that includes a complete set of emojis compatible with Windows. If you enjoy using emojis while chatting then Winmoji is a perfect solution. To search emojis at a glance and copy on the clipboard WinMoji utility is no doubt a perfect choice.
These days using emojis while chatting is the latest trend. So, all the operating systems have made their OS compatible with using emojis. Even we find many third-party software available in the market available for emojis.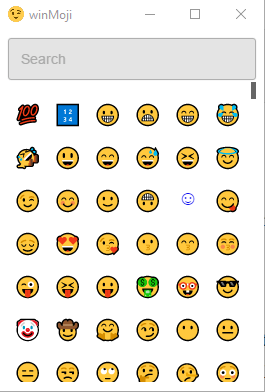 Ways to Use WinMoji and Access Emoji Instantly in Windows
Download WinMoji
Step 1 – Reach this page and get the WinMoji software. This is pretty heavy and may occupy around 30 MB of disk space.
Step 2 – Now follow the guidelines on the computer's screen to get through the installation process.
System Requirements
It is compatible with all kinds of Microsoft Windows, right from Windows 10 up to Windows 7. But it needs the touch keyboard option in order to use emojis and that option is available in Windows 10.
How to Use WinMoji
WinMoji is a very simple software with an uncomplicated user interface. It contains a solo scrolling window to avail emojis and performs quick searches.
This interface contains two basic tasks – copying emoji to the clipboard and searching for an emoji.
Copying images to Clipboard
Once you select an emoji, it gets stored in the clipboard of your device. Now further use that particular emoji for any other apps supporting usage of emojis and text inputs.
Search an Emoji
The feature Search an emoji is a blessing to its users offered by this interface. To search for an emoji simply type the word associated with that emoji in the given search box at the top of the interface. For example, if you want to search for an emoji in a happy mood then just write happy in the search box. It will display all the emojis related to the happy mood in the result. Now choose the icon that you like to use for your chats.
Concluding Words
So, here you find software that helps you to converse not only with words but also with emojis. This software includes a wide variety of emojis that you can as per your needs and mood. Therefore download this software now and Use WinMoji to access emojis with the help of this guide on your Windows PC.