Facebook offers several new admirable features regularly for its worldwide users. This is because Facebook wants to be one of the best social networking sites at this time. The important feature of Facebook is that if you don't like any latest features then it is simple to restore with an old feature that you loved. Now Facebook supported some useful chrome extensions are available for chrome browser in order to use it nicely and add or fix the not working features on Facebook.
Download FB Album Mod
Facebook is not only top-rated social site but also provides an option to upload your favorite photos for sharing purposes. Whenever you view your old photo albums on Facebook then you search the Download all button. But Facebook does not offer a download button for downloading Facebook album on your computer. Now a chrome extension "Download FB Album Mod" lets you download both small and large albums at the same time.
How to use Download FB Album Mod extension
The extension adds a button to the URL bar. When you click on it, you can decide how you want to download the album with two methods.
First method
If you are working on the album's page presently then you can click Normal to begin downloading the album.
Second method
If you have opened a particular photo instead of an album then copy its full ID from the URL bar and click on Load from a specific id button.
Next, enter the copied ID when it prompts on the screen. Then the extension will download automatically the selected photo album to which that photo belongs.
Facebook Chat Fix

Many regular users don't like the latest Facebook Chat bar interface because it occupies the largest area of the browser. If you want to restore the old Facebook chat bar interface then Facebook Chat Fix chrome extension will bring it back quickly for you.
Facebook Chat Fix
Facebook Panda
As you know Facebook supports Bing maps service of Microsoft by default. If you want to get Google Maps instead of Bing maps then a chrome extension "Facebook Panda" is helpful to do this work instantly.
Facebook Panda
Facebook Messenger
Currently, Facebook Messenger is present as an app for both Android and iOS. Now Facebook Messenger can be used with a chrome extension in your favorite browser. After adding to this extension in the Chrome browser, it starts with a separate window where you can send and receive Facebook messages easily. You can also see new friend requests, notifications, and messages from the top panel.
When you click the menu button on the top panel, it launches the sidebar that lets you view the news feed, messages, events, and the joined groups.
Facebook Messenger
Do Not Track Me Facebook
Facebook tracks your working actions during access every page on this social network. The understandable way to avoid the tracking activities using the sign out your Facebook account quickly. In this situation, you can use an extension called Do Not Track Me Facebook. This extension blocks URLs shared on Facebook so that it can't track which links you click on in your news feed.
Do Not Track Me Facebook
Facebook Chat Alerts
Recently Facebook has added sound alerts feature in order to aware of new updates and incoming messages on your Facebook account. Now a chrome extension also supports the same feature and it is namely Facebook Chat Alerts. This chrome extension provides you a desktop notification when your friends sign in their Facebook account, goes offline or any friend send messages to you. The extension is unbelievable because it allows you to get notifications for every friend or for choosing friends only.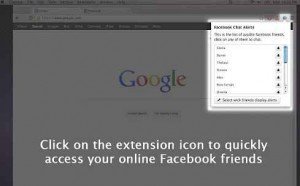 Facebook Chat Alerts
Revert FB Photo Viewer
The latest image viewer feature "Facebook Theater view " is not accepted among the many Facebook users. This feature opens the image in a new chrome tab easily and returns to your old view. Now a chrome extension "Revert FB Photo Viewer" is a great solution to view your Facebook photos in the easiest way. This extension will forever start images in the old viewer by default.
Revert FB Photo Viewer
Conclusion
Keep in mind it is not probable that all above mentioned extensions will work with each other at the same time. Although our working experiences with these chrome extensions are good and user-friendly. In case, other installed extensions in your chrome browser are also the main cause to obstruct them. So get started with above chrome extensions at your own skills.