In fact, Google Chrome is one of the best internet browsers with multipurpose features. The browsing experience with chrome browser is admirable because it offers several helpful extensions to work simply and quickly. But chrome does not support the feature of file viewer by default. As a result, users have to choose Google Drive or other services to edit or view the Microsoft Office files (Word, PowerPoint and Excel). Google has now integrated this functionality in the form of an extension to Google Chrome (Beta) users on Windows and Mac. For this, A new chrome extension named Chrome Office Viewer is available on the Google Chrome store.
This extension lets you drag and drop your Word, PowerPoint and Excel files to your chrome browser page and view them straightforwardly. The extension is under the experimental stage therefore it may take minutes to load the office file on the screen. It will work only on the Beta or dev version of the Chrome browser.
Tips for How to use Chrome Office Viewer Extension?
The Chrome Office Viewer extension runs in the background mode all the time and you don't get any icon in the extension bar.
It loads automatically while you drag & drop any office file on a Chrome window.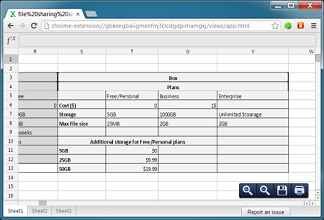 The Chrome Office Viewer lets you view the PowerPoint files fairly better than other online file viewers. Here you will get a sidebar in the left side on the chrome window. This sidebar lets you navigate to different slides respectively. The presentation can be also seen in full screen mode. But, this extension does not play the presentation file as a slide show and you have to open the next slide by hand.
Download latest Beta version of Google Chrome
Install Chrome Office Viewer  Extension From Chrome Web Store