The Microsoft Office is a trusted product of Microsoft Corporation. This product offers Word, Excel, PowerPoint and others useful applications for Home and professional needs. There are several free document viewer services are also available online to view MS office files without installing the MS Office suite on the computer. These services are Google Docs and View Docs Online. It helps you to edit and view the office files online while uploaded to your account.
The newest Microsoft's service namely "SkyDrive or outlook" also offers the same handy features. For example, users can create, view, save and edit Microsoft Office files online using Microsoft account. If you would like to view Office Word, Excel, and PowerPoint files directly in their web browsers then use a free Microsoft service titled Office Web Viewer. The best feature of the service is that you don't need to sign with Microsoft account in order to use.
How to view Office files in web browser with Office Web Viewer ?
Step 1
At first, launch the page of Office Web Viewer in your browser (IE, Chrome and Firefox).
Step 2
Type or paste the URL of the office document that you like to open in your web browser. Next, click on Create URL button.
After clicking on Create URL button, it will create a new URL of the office files.
Step 3
Copy and paste the new URL of the office files in the address bar of your web browser or click on preview in a new window option at the bottom section.g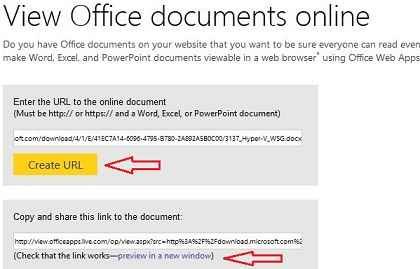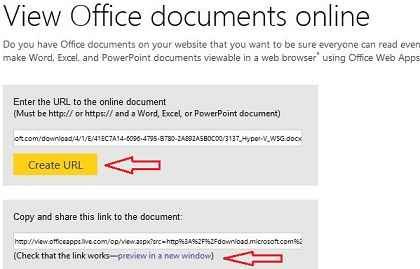 Step 4
Then you will able to view the office document in your browser immediately without downloading it. Really, you can share this link to anyone who likes to view the document without logging in to a Microsoft account.
Note
Please note that Word and PowerPoint files must be less than 10MB and Excel files must be less than 5 MB.