Currently, most people use Twitter on the Google Chrome browser. Twitter offers several benefits to its users. Twitter users may run multiple twitter accounts, set schedule tweets, automate and filter tweets in feed as well as modify any schedule tweet before retweeting it. In this context, there are several Chrome extensions available in the chrome web store to get more advantages of a Twitter account. These extensions will help you to view photos and videos of the twitter more attractive and clear and easier.
1.   InstaTwit
If you share or upload images with the support of Instagram to your Twitter timeline regularly then InstaTwit is the best extension for Google Chrome. This extension facilitates you view the shared images from Instagram in your Twitter Timeline once more. To get preview of Instagram image,
At first, install the InstaTwit extension from chrome store.
Install InstaTwit From Chrome Web Store
Sign your Twitter account in the chrome browser.
Click on the Refresh button on your Twitter window. It takes some moments to load the Instagram image on your twitter account.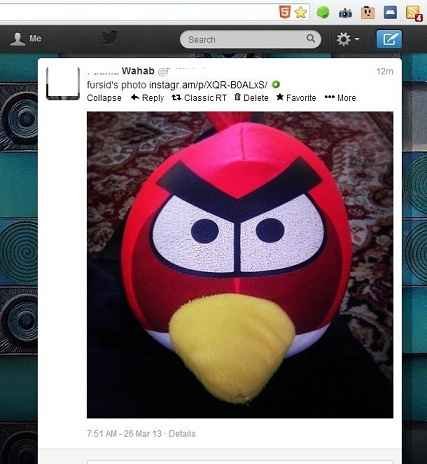 Remark
Please note the extension does not identify the images automatically similar to Twitter. But, you will have to monitor your twitter timeline to view the Instagram shares. As soon as images are found, it will load quickly.
2.   Photo Zoom For Twitter
If you want to view shared images of a particular twitter account in the chrome then use a chrome extension titled "Photo Zoom for Twitter". This extension displays any image of your Twitter profile like profile pictures or recently shared images while you move your mouse cursor on floating window.
Install Photo Zoom for Twitter From Chrome Web Store
3.   Previeweet
Previeweet is another Chrome extension that helps you to view tweeted images on your Twitter Timeline. The extension includes a small thumbnail preview along with an image beside each tweet. In addition, the Previeweet extension also holds thumbnails of videos shared from YouTube, Vimeo and Twitvid.  Keep in mind that this extension runs silently in the Chrome browser while you access your twitter profiles. It loads video thumbnails automatically within tweets. A useful button is found on the thumbnail preview that denotes its evidence. Actually, it notices that which type of image service or video service has been shared on your Twitter Timeline.