The volume slider is a fundamental feature of any operating system, allowing users to control their audio output with ease. However, encountering issues with the volume slider not working in Windows 11 can be frustrating. In digital devices, the volume slider plays a crucial role, granting users the power to fine-tune their audio output effortlessly. Even though the frustration of encountering a non-responsive volume slider issue in Windows 11 is a problem many might face.
This guide is designed to empower you with the knowledge and steps needed to overcome the volume slider problem in Windows 11. We'll unravel the underlying causes of this issue and equip you with a range of solutions that cater to varying levels of technical expertise. Whether you're a tech-savvy explorer or a newcomer. See: How To Fix Sound Not Working in Windows 11 (Solved!).
Volume Slider Not Working in Windows 11
Here is how to fix Volume Slider Not Working in Windows 11:
Check Audio Settings
This method ensures that your windows is correctly set up to listen to the right sound source. Sometimes, the volume slider doesn't respond because your software might be trying to listen to the wrong place.
By checking and adjusting the audio settings, you're making sure your computer's speaker is focused on the right spot, which helps the volume slider work properly.
Right-click on the volume icon in the taskbar and select "Sound settings."
Go to the Output section and click on Speakers.
Check if the device is properly configured.
Restart Windows Audio Service
The Windows Audio Service is similar to a hotel manager, The way a manager manages all the functioning of the hotel, The Windows Audio Service manages all the sound on your computer.
If it starts to glitch a little, the Volume Slider Not Working issue occurs. Restarting this service can help your volume slider start working again.
Press "Windows + R" to open the Run dialog.
Type the word "services.msc" and press Enter to open up the Services window.
Scroll down and you will find "Windows Audio" in the list.
Right-click on Windows Audio and select "Restart."
Update Audio Drivers
The computer needs to communicate with the volume slider using the right instructions. Outdated or incompatible "language" (audio drivers) can confuse the volume slider and make it unresponsive.
By updating the drivers, your windows will have the right set of instructions to give to the volume slider, which would solve any issue that the software would have during sending commands.
Right-click on the "Start" button and select "Device Manager."
Expand the section "Sound, video, and game controllers".
Then Right-click on the audio device and select "Update driver".
Choose "Search automatically for drivers" and follow the on-screen instructions.
If this does not work, right click on the Audio device and select Update driver.
Click on Browse my computer for drivers.
Select Let me pick from a list of available drivers on my computer.
Choose any old driver and from the list and click on Next.
Follow the instructions and restart the system.
Roll Back Audio Drivers
Sometimes, an update to your Windows might have caused the volume slider to act strangely. Rolling back the driver will take it back to a time when everything was working fine.
It helps undo any recent changes that might be making the Volume Slider not working issue. This would make it easier for the software to convey commands.
Open "Device Manager" as explained in the previous method.
Right-click on the audio device and select "Properties."
Go to the "Driver" tab and click on "Roll Back Driver" if available.
Reinstall Audio Drivers
Over time, the communicator between hardware and Windows can get a bit obsolete, which affects how the volume slider responds. By uninstalling and reinstalling these drivers, you're giving your driver a reset. The volume slider can now understand and respond properly to its commands.
In "Device Manager," right-click on your audio device and select "Uninstall device".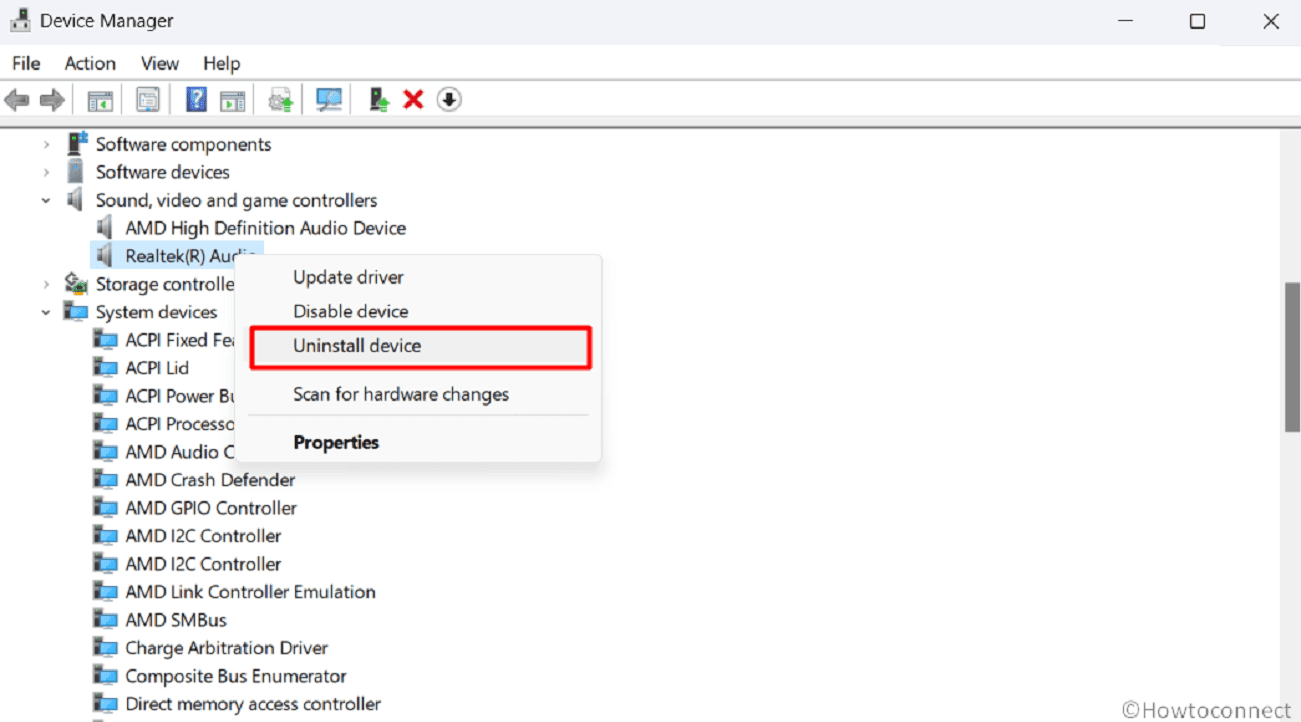 Restart your computer.
Windows will automatically reinstall the audio drivers.
Run Windows Troubleshooter
Windows Troubleshooter checks your device for errors. It scans for any small issues that might be causing the volume slider to act up, like untangling a bunch of mixed-up wires.
Running the audio troubleshooter helps diagnose and fix these small problems, letting your volume slider work smoothly again.
Search for the volume icon on the taskbar, Right-click on the icon, and select "Troubleshoot sound problems".
Follow the prompt as the troubleshooter detects and fixes audio-related issues.
Check for Windows Updates
Sometimes some codes in Windows 11 can have bugs, these bugs can cause the Volume Slider not working problem. Checking for and installing Windows updates will give your Windows the proper technique it needs to solve these issues and get the volume slider back on track.
Press "Windows + I" on your keyboard and it will open Settings.
Go to "Windows Update" and click on "Check for updates."
Install any pending updates and restart your computer.
Restart Windows Explorer
Windows Explorer is the primary cause when Volume Slider not responding problem seems to appear in Windows 111 or 10. But, fortunately, you can repair this by restarting the component:
 Press Ctrl+Shift+Enter.
When Task Manager opens, find Windows Explorer in the Processes list.
Right-click on it and select Restart.
Perform a System Restore
Occasionally there might be errors for unknown reasons and then you will need to perform a whole system restore which is like taking Windows back to a point when everything was working fine.
If recent changes or updates have messed up the functioning of your computer, a system restore can reset everything, including the volume slider, to a happier and more functional one.
Type "System Restore" on your Windows search bar and press Enter.
On the Window that appears, click on System Restore…
On the new wizard, click on Next.
Choose the date and time when the volume slider was working perfectly and click on "Next".
Click on Finish which will lead to a warning pop up.
Select Yes and wait until the system restore is fully completed.
A malfunctioning volume slider can cause problems with your Windows 11 experience, but by following one of these methods, you can troubleshoot and resolve your issue. Whether it's a simple settings adjustment or a driver update, these steps will help you regain control over your audio settings and ensure that your volume slider works flawlessly once again. And make your Windows 11 Experience seamless.
Methods:
Check Audio Settings
Restart Windows Audio Service
Update Audio Drivers
Roll Back Audio Drivers
Reinstall Audio Drivers
Run Windows Troubleshooter
Check for Windows Updates
Restart Windows Explorer
Perform a System Restore
That's all!!
Repair any Windows problems such as Blue/Black Screen, DLL, Exe, application, Regisrty error and quickly recover system from issues using
Reimage
.