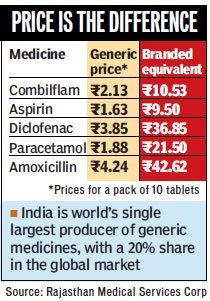 Our hectic lifestyles and the polluted atmosphere we live in are responsible for the growth of so many diseases around us. In such a scenario medicines form an important part of our monthly expenditure. Medicines prescribed by our doctors are generally very expensive, but if we know the salt composition of our medicine then we can buy much cheaper and equally effective medicines or generic medicines. For example, instead of buying Crocin or Saridon, if you know that these painkillers are composed of Paracetamol salt then you may buy a cheaper drug composed of Paracetamol. Generic medicines were publicly discussed as an option for affordable health care in one of the episodes of Aamir Khan's social issues show 'Satyameva Jayate'.
This article tells you about some online medicine website that might help you knowing the composition salts of each drug and suggest you alternate brands for each drug.
(i) mims.com – It is the most popular online website among medical professionals. It requires a free registration process, but you may skip the process by typing 'mims.com ' in the Google search bar.
(ii) www.medindia.net – This website allows you to search drugs, either by their brand name or the generic name. You might encounter a lot of advertisements which make the experience irritable. The one good feature that this website provides id the comparison of various brands of drugs side by side.
(iii) HealthKartPlus.com – It is a search engine specifically meant for searching generic drugs. This website id is also available as an app for Android, iPhone or iPad. The language of this website is quite simple and easy to understand. It tells you about the drug itself, substitutes of the drug and the various market prices.
(iv) GetDavai.com – It is an online service where you enter the medicine's name and it quickly lists the various brands of that medicine present in the market with their prices. It does not provide us with source or manufacturing details.
(v) MyDawaai.com – This is an Android ios app that will help you out with the generic names and market brands of various medicines. The prices are also listed. The plus point of this app is that it also lists details about small-scale drug manufacturers.
Although the above-listed sites are immensely helpful, it is always advisable to let your doctor know about the medicine you will be having, in case you decide to opt for a substitute.