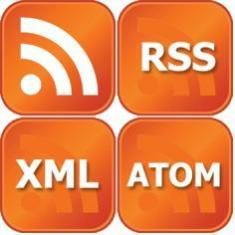 Web syndication is an amazing way to get information on current updates. Web syndication is a form of syndication where a separate website provides information on the current updates of another website which may include anything from a latest news or forum posts. Sometimes, licensing a website's contents to make other websites use it is also termed syndication.
When we talk of web syndication, we can say that web feeds are also a form of syndication. After all, web feeds provide us updated information of a particular website. Talking of web feeds, the two names that come to our mind are Atom and RSS. Atom and RSS are the best known formats over which web feeds are possible.
When we are talking of the best two in the field then the obvious question arises is that which is better? Atom or RSS? The answer is not easy because there is simply no definite answer to this question. It all depends on what your requirements are. RSS, of course, was the first feed format available. RSS stands for 'REAL SIMPLE SYNDICATION'.
Atom, on the other hand, arose out of the need to address the few shortcomings that the RSS feed format had. Yet the faithful still continue to use RSS. Atom has gathered its own followers sticking to it. Many,I  believe continue to use both. Atom 1.0 being a late addition is more feature rich than RSS 2.0. Though the numbers mislead people into thinking that RSS is more advanced.
RSS definitely has its positives but Atom outperforms RSS as far as features are concerned. Below is a list of areas where Atom clearly has the upper hand
(i) RSS 2.0 can either contain plain text or escaped HTML as it's payload. It absolutely has no way to inform the user that exactly which of the two are being provided. Atom, however, has a way to inform or label the content it is providing. It also bears content of a variety of formats as plain text,escaped HTML, XML, XHTML, etc and also provides references for other contents as audio, video, documents.
(ii) RSS vocabulary elements are generally non-reusable in some other XML vocabularies. Atom does away with this problem because it's syntax allows elements to be used again outside the context of an Atom feed document.
(iii) The RSS vocabulary has a way to indicate a distinct language for a feed but has no way to specify the same for individual things or say text elements. Atom uses the standard xml:lang attribute which is capable in specifying a language concern for any content present in the feed that can be read by humans.
(iv) RSS 2.0 uses the RFC 822 formatted timestamps to let the user know when the feed items were previous built and updated. Atom, on the other hand, uses RFC 3339 timestamps.
(v) Atom feeds come in two parts which are summary and content. This gives better viewer comfort. The user also knows whether one is reading a part of an article or the whole article. Further, audio/video content is also specified. RSS feeds however, come only as summary which is confusing and irritable.
(vi) The 'auto discovery' feature of Atom allows a browser to become aware of its presence. RSS feed also has the feature but is not as smooth. Moreover, the Atom feed also has a 'self-pointer' which will make your feed reader automatically subscribe to it.
(vii) RSS being an older feed format, has many versions available. Atom being new, has relatively less versions.
The above stated points undoubtedly affirm Atom as the better option over RSS. Yet, the trust RSS has developed around its name for years has made it the all time favorite for many websites, specially NEWS web sites. CNN, BBC and many other prominent news channel web sites use the RSS feed. The IETF has proposed the Atom as the standard feed format. The apple i-tunes site also has Atom as it's favorite  GOOGLE itself has adopted Atom as its official feed format. Even then RSS continues to be the preferred option for many. Podcasting owes its creation to the enclosure support provided by RSS 2.0.
Thus we see that Atom and RSS being fierce competitors in the feed format field, each of them have retained their followers. It depends on your preferences whether you require Atom or RSS. For the benefit of those, who can either use Atom or RSS, many sites allow the users to opt for any or both of them. So ultimately the choice is yours!!