Search engine like Bing is known to offer new services to all-inclusive users. At this round, Bing offers to download Bing Homepage Wallpaper without paying single coin at day to day basis. As a blog writer, I have introduced all important inclusive services of Bing and hope the trends would be continued for longer period of time. As you see Bing displays amazing quality of images on its homepage on day to day basis. Garbing these images could be real fun. Therefore, I am going to point the method of automatically downloading Bing Homepage Wallpapers on your  system quite conveniently.
How to download Bing Homepage Wallpaper Daily
The act of enabling automatically download Bing Homepage Wallpaper daily needs certain changes. To make these changes, these successive steps are required to be taken.
At first you need to change 'Country Settings' of Bing search engine. You could do it after clicking on Gear Icon at top right corner of homepage. 
Then scroll the page and access  Location option and need to click on 'Country / region' link. Here you will have to set United State -English option. 
Once you apply above settings download icon would be visible at homepage at bottom right corner of Bing search engine.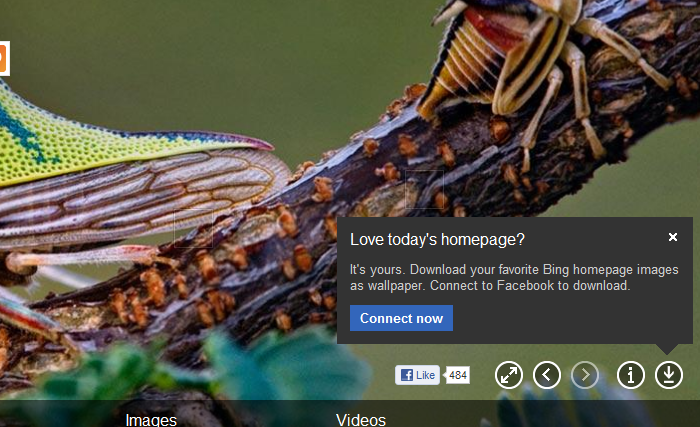 Now, you should connect above link to Facebook and click to download icon if wish to download Bing Wallpapers regularly. But remember anyone may download current Wallpaper not older wallpapers through made above changes. 
Wanting to see updated Bing Wallpaper on your computer set 'Bing as default homepage' in your browser.  
Update
You can download Bing wallpaper app from here – https://www.microsoft.com/en-us/bing/bing-wallpaper?rtc=1