You might be wondered by getting What needs your attention warning on the setup while getting Windows 10 version 1809. The message here caution that a driver you your computer may create stability problem after the installation. Microsoft announced that  Intel Audio Display device driver (intcdaud.sys) is consuming a huge amount of processor so they are blocking the Windows 10 October 2018 Update on the devices having the driver. Intel also suggested the same to the users as incompatibility issue of the aforesaid driver version  10.25.0.3 – 10.25.0.8 they should not install version 1809.
Windows 10 October 2018 update has numerous modern features so users were impatiently waiting for the version. Microsoft released this version (1809 Redstone 5) but unfortunately the OS causes excessive processor demand and reduce battery life.
What needs your attention – Windows 10 October 2018 Update 1809 may fails the Install
When you try to upgrade Windows 10 to v1809 via media creation tool or check for updates manually you may confront a warning "What needs your attention".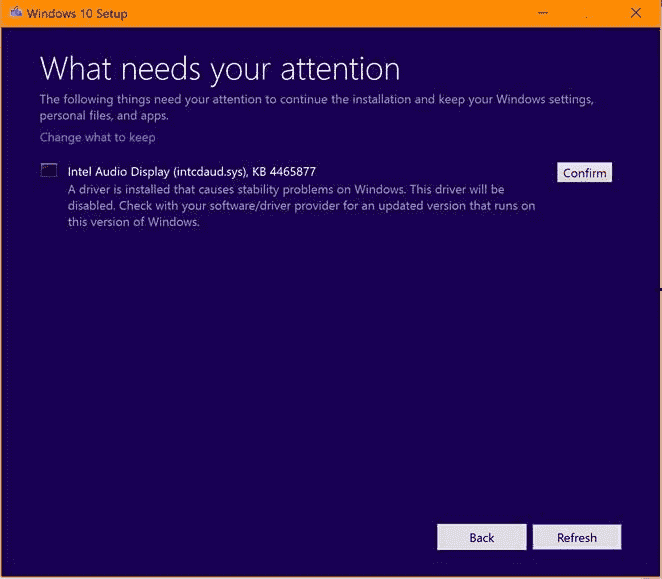 Further you will view the statement –
The following things need your attention to continue tile installation and keep your Windows settings, personal files, and apps. Change what to keep
Intel Audio Display (intcdaud.sys), KB 4465877 A driver is installed that causes stability problems on Windows. This driver will be disabled. "Check with your software/driver provider for an updated version that runs on this version of Windows."
Microsoft recommends to click Back (cautiously avoid Confirm) and stay on the Windows 10 version you're using.
Intel ratifies that Intel Display Audio driver bundled with  Intel Graphics driver version 24.20.100.6286 and later leads to the issue on Windows 10 1809 version.
The company says, the fix for the issue already included in Intel Display Audio driver version 10.25.0.10 that was bundled with Intel Graphics driver version 24.20.100.6286 and later already includes workaround. You just need to ensure that you have this Intel Graphics version.
Workaround for What needs your attention – Windows 10 October 2018 Update 1809
Step-1: Right click on an unoccupied space on the desktop and select "Graphics Properties" to launch Intel HD Graphics Control Panel
Step-2: Click on "Options and Support".
Step-3: Select "Information center" on right pane and see the Driver version in the right, it should report 24.20.100.6286.
Step-4: Check Intel "Graphics Display driver version".
If you notice the same version then update the driver.
There is always a cause for Microsoft to not to push Windows 10 October 2018 update version 1809 to all devices. Despite, they release the update to qualified devices that don't have What needs your attention – Windows 10 October 2018 Update 1809 issues. So be careful and check if your system drivers are up-to-date, then only upgrade. or Wait until Microsoft pushes the feature update to your device through automatic updates.
Still, you're getting the issue you may contact via the numbers this page – Global Customer Service phone numbers.