Win32kfull.sys Error in Windows 10, as well as similar errors, happen to occur during the phase of system boot. Sometimes it shows up while you attempt to use some specific functions and also when you start a program. As to define it in simple terms, Win32kfull.sys is generally a kind of SYS file linked with Windows 10. Microsoft Corporation came up with it as an aid to the operating system.
Issues in SYS files like win32kfull.sys Error in Windows 10 takes place because of the problematic hardware system. Sometimes, corruption in the device driver files can do the same. Win32kfull.sys bears a tremendous importance in the functionality of this latest OS. Therefore any SYS errors in Windows 10 can result in serious damage. Very often critical system issue like BSOD (Blue Screen of Death) appears. We will discuss how to fix win32kfull.sys Error in Windows 10 in the following discussion. So move ahead –
How to fix win32kfull.sys Error in Windows 10
Before going to deep, let's know first about SYS files and the causes or the mess up.
What are SYS Files?
SYS files like win32kfull.sys are basically a third-party critical system file or device drivers. Microsoft Corporation is also included in third-party organizations. These files are actually parts of Windows operating system. The main function of these drivers is to allow the internal and external hardware system of a computer such as a printer.
Except for the win32kfull.sys, most of the critical files are kernel mode device drivers. These are necessary for powering up the Windows Operating system. Some files like CONFIG.SYS also contain configuration settings too.
Nature of Errors in SYS files
Win32kfull.sys Error in Windows 10 appears in computers usually with BSOD moreover Stop errors. It also shows following messages in different cases. The messages are:
1. STOP 0×00000050: PAGE_FAULT_IN_NONPAGED_AREA – win32kfull.sys.
2. A problem has been detected and Windows has been shut down to prevent damage to your computer. The problem seems to be caused by the following file: Win32kfull.sys.
3. STOP 0x0000001E: KMODE_EXCEPTION_NOT_HANDLED – win32kfull.sys.
4. 🙁 Your PC ran into a problem and needs to restart. We're just collecting some info, and then we'll restart for you. If you would like to know more, you can search online later for this error: win32kfull.sys.
5. STOP 0x0000000A: IRQL_NOT_LESS_EQUAL – win32kfull.sys.
Users generally confront Win32kfull.sys blue screen problem while installing new software or hardware and program.  Additionally, you can experience them at Windows startup –shutdown and during the loading of Device drivers for Microsoft Corporation. STOP errors generally come into view in critical information pieces while troubleshooting the problem.
Causes Behind win32kfull.sys Error in Windows 10
Following are the causes responsible for this flaw –
1. Error occurs mostly via Windows 10 Operating System Driver when it is configured incorrectly or it is corrupted.
2. Any fault in the Registry while installing or uninstalling of win32kfull.sys-associated software.
3. Operating System corruption due to malicious attack.
4. A conflict between hardware relating to win32kfull.sys and Microsoft Corporation.
5. Removal or damage to program files of Windows 10 during installation.
6. Corrupted RAM is responsible for win32kfull.sys STOP error.
We will discuss 10 troubleshooting ways in order to fix the matter. These steps can be a bit time-consuming. We recommend you to follow the steps in proper to avoid making it complex. Here is the list of solutions.
Workaround 1: Update Drivers 
Mostly outdated and corrupted device drivers are responsible for the Win32kfull.sys BSOD error. Even after working for a prolonged time, suddenly they can stop working due to so many reasons. Driver update can resolve the BSOD error.
While searching for an exact driver, you may find difficulties in the trustworthy sites like Microsoft Corporation or related manufacturer. Moreover, it is nagging and time-consuming even if you find the drivers to update manually. Again, installing these in the wrong way will cause additional damage to your computer
There are several tools that update all the drivers including the one ending up BSOD issue. They ensure the correct version in all cases. Besides, before making any transformations, some of them save a backup file of that one. Backing up is an amazing option as you know every time that you have something to drive back in case of a wrong move. You can also unlock new hardware features and make the computer superfast by updating all the drivers.
Go through our Tips to Update Driver Software on Windows 10 Step by Step.
Workaround 2: Install Windows Updates
Every now and then Microsoft is updating and improving Windows system files which also includes files win32kfull.sys. Most of the time, simple updating can also resolve this nagging problem. BSOD error is likely to be fixed by the latest service pack and patches released by Microsoft on a regular basis.
Step-1: Launch Settings program. The easiest way to access the application is to press Windows & I hotkeys.
Step-2: Go to Update & Security tab, the last one. On its corresponding right side, click Check for updates. If any are available, download and install the same.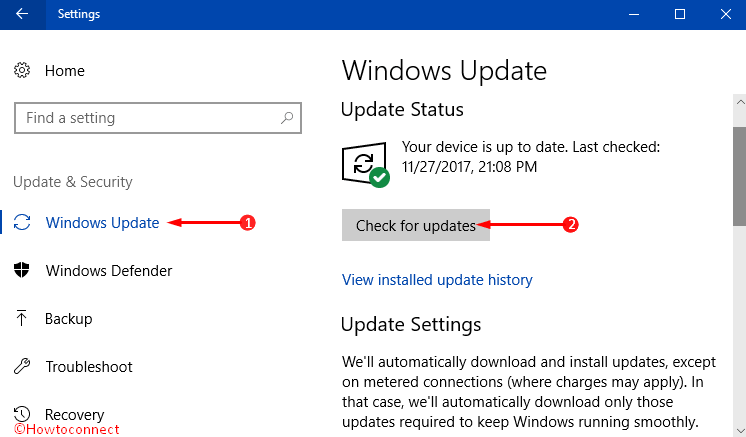 Workaround 3: Scan Computer for Malware Presence
Win32kfull.sys STOP error is usually caused by the infection of malicious invaders. These bugs can corrupt, damage furthermore as delete the SYS related files from the computer. In order to avoid that, you need to use any Anti-malware software of your choice and scan the whole PC. The software solution eventually resolves the threats upon the completion of scan and thus fixes the win32kfull.sys Error in Windows 10.
Workaround 4: Uninstall Recently-Installed Program
If win32kfull.sys BSOD error is related to any specific program, reinstalling it is the way to fix.
Step-1: Go to the Start Menu and select Settings.
Step-2: On the following Setting page, select Apps tab.
Step-3: In the new window, you see an option Apps & features in the left pane. Click on this and it opens a list of options on the adjacent right side.
Step-4: From the apps on the right pane, locate win32kfull.sys associated program. Putting a click on this program will show additional options just below this. Select the option Uninstall and click Uninstall again in the pop-up in order to confirm.
Step-5: Later on, follow the on-screen instructions to complete the un-installation of the win32kfull.sys-associated application on your computer.
Once you have uninstalled it successfully, reinstall it again following the guidelines provided by the developers.
Workaround 5: Run Windows System File Checker
System File Checker is an efficient built-in utility that scans and restores any corruption in the system effortlessly. If the tool finds any error related to SYS or any other critical file system, it replaces them automatically.
Step-1: Go to the Cortana search field and type in cmd.
Step-2: Moving ahead, keep a hold on CTRL+Shift keys and hit Enter. Upon the prompt of permission dialog box, click Yes to proceed.
Step-3: You notice a black box with a blinking cursor, type or copy/paste sfc /scannow here and press Enter key.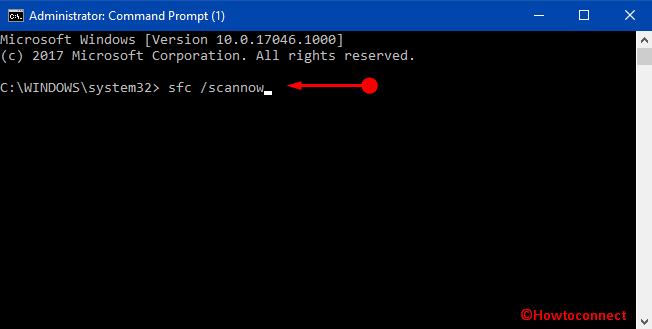 Step-4: It starts scanning for dreadful files on the computer. This step will take a longer period of time and thus, be patient and wait until the scan ends.
Read more about this on SFC /Scannow, DISM.Exe, CHKDSK Windows 10.
Workaround 6: Scan for Hard drive Corruption (chkdsk/f):
As already mentioned, most of the storage-related and win32kfull.sys BSOD errors are caused by storage controllers and the problem associating to "hard disk drives". But, in some cases, HDD corruption can also impute the same. Additionally, due to prolonged unintentional and repeated misuse can make various issues. Along with file system, the store can also be corrupted due to various issues. These are the incomplete and corrupt installation of software, shutting down wrongly, Hardware failure and the hard closing of a program. Microsoft bought utility chkdsk (viz. Check Disk) to scan including repair hard disc corruption.
Step-1: To begin with, launch an elevated Command Prompt to bypass win32kfull.sys Error in Windows 10. When you come across UAC prompt, click Yes.
Step-2: On the black panel, copy/paste or type chkdsk /f and press Enter button.
Step-3: This command starts scanning your hard disk. To know more about this procedure, explore our guide on How to Check Faulty Drives with Chkdsk in Windows 10.
Workaround 7: Check RAM for corruption
Many times, corruption in the RAM can lead to hardware related win32kfull.sys blue screen errors (BSOD). If you have similar problems, you will confront the issue like a random reboot, beep codes at the startup and the crash of the other computers. Experts say that about 10% of the application crashes occur only for memory corruption.
If you have newly installed a memory, remove it in the first place which will assist you to overcome the win32kfull.sys Error in Windows 10. If the message disappears, you can be sure that the RAM was corrupted. Change that one and get a new memory.
On the contrary, if the removal of memory doesn't work, you need to perform a diagnosis on it. This memory test will look for the memory failure and an intermittent problem or anything else that is causing the error. "Windows Memory Diagnostic Tool" will be helpful in this regard.
Step-1: On the Cortana text field, type memory and press Enter when you notice Windows Memory Diagnostic as the Best match.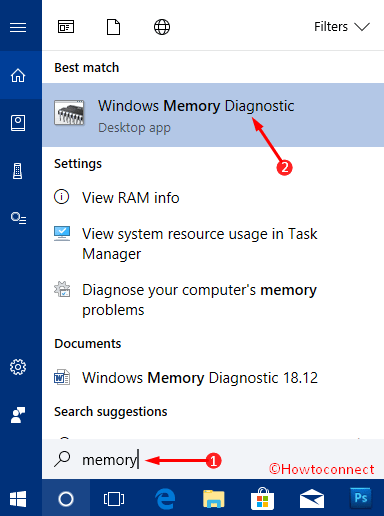 Step-2: On the following pop-up, you can see Restart Now and check for problems option. Click on it and the tool will automatically operate after a restart. Before doing so, make sure all of your ongoing works are saved already.
Step-3: There is another option in this popup. Click on Check for problems the next time I start my computer if you want to wait until the next startup.
Workaround 8: System Restore
Windows System Restore is an option that lets you go back in time with your computer in order to fix win32kfull.sys Error in Windows 10. Doing so will ultimately take your system to the situation when everything was working absolutely perfectly.
You can also Run System Restore Using Command Prompt (CMD) in Windows 10.
Workaround 9: Repairing Registry Entries 
Certain incorrect entries in Windows Registry cause BSOD error. Besides, infections due to malware attack and third-party software can corrupt the entries related to Windows 10 operating system eventually causing STOP error to occur. Therefore, we need to fix the issue associated with registry entries first.
In order to repair manually, create a back up some part of registry associated to win32kfull.sys using Export option.
If you are not a Windows service pro, manual editing the Registry is not recommended. Any wrong entry here can damage your computer permanently from functioning moreover can destroy the operating system. Even a misplaced comma can restrict your PC from booting completely. Therefore, we suggest you use a trustworthy registry cleaner, such as Black Bird Registry Cleaner on Windows.
Workaround 10: Perform Clean Installation of Windows
This is the final solution that can resolve win32kfull.sys Error in Windows 10. Reinstalling Windows will surely delete everything from the hard disk drive and eventually start the whole system afresh. Additionally, clean install of Windows will remove all the leftover junk files after the prolonged use of the computer.
Conclusion
SYS files play a significant role in the Windows operating system. Any of the mess up in these files is immensely dangerous for a computer. Win32kfull.sys Error in Windows 10 is one of the issues in the same family. You need to resolve this soonest possible if you confront it. We have discussed several ways that are very effective in order to fix win32kfull.sys Error in Windows 10. Hope you can also fix your issue by pursuing any of the above solutions if you come across this.
Utility tools to solve this BSOD:
Repair any Windows problems such as Blue/Black Screen, DLL, Exe, application, Regisrty error and quickly recover system from issues using
Reimage
.