Windows 10 1809 is once again in trouble as upgrade to this version mightn't Allow to Use Administrator Account. Deletion of User files, Zip File Bug, Intel Audio Driver problem, Notifications Missing in Action Center are the errors this edition has been encountering. Microsoft stopped the deliverance of the update several times to deal with the high times.
When you will upgrade to Windows 10 1809 from 1803, the built-in Administrator account will be disabled unintentionally. Currently, Microsoft is working towards a resolution and it will be released in January 2019.
Windows 10 1809 Upgrade mightn't Allow to Use Administrator Account
Windows 10 1809 disables the built-in Administrator account after the upgrade; Microsoft Taiwan firstly reported the bug. The quote was "the built-in Administrator account is inadvertently invalidated."
As per reports, this latest bug is said to arise only when the following 2 conditions are met –
The built-in Administrator account is on an enabled mode (normally it is disabled)
There are other accounts which have been given administrator privileges (a minimum of one account is a must)
This bug has been confirmed by TechNet Japan as well. The blog post states that their team is already working steadfastly on finding a solution, with the aim of releasing a patch sometime in late January 2019.
The blog post further states that in case users feel the need to upgrade to Windows v1809 anyway, then they must sign in as a user with administrative privileges instead of the built-in admin credentials.
Microsoft has also recommended that till the time the cumulative patch is officially pushed; users must avoid upgrading their devices to Windows 10 to version 1809.
Administrators have been requested to create at least one additional admin account which has the same level of privileges before any upgrade to v1809 is activated.
Windows 10 1809 Upgrade mightn't Allow to Use Administrator Account – Temporary Fix
The given method can be followed to check if another account with admin privileges is available apart from the built-in.
Type Windows + R, type control userpasswords and then to open the User Accounts window.
Select Manage another account to display the list existing on your device and their types.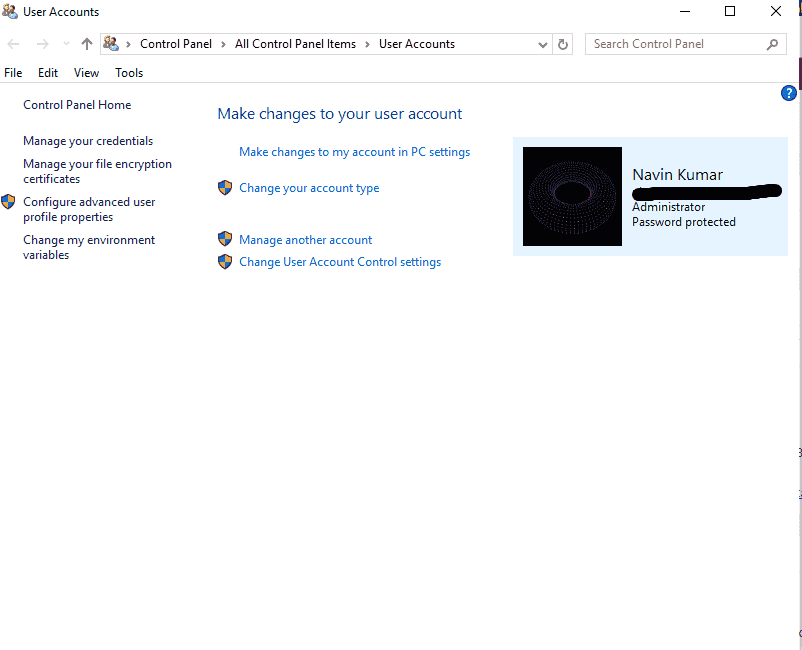 If "administrator" is listed next, then the same has extended privileges and can be selected.
However, the current bug seems much easier to handle, and hopefully, Microsoft will release the patch in the next couple of weeks.
That's all!!!