Windows 10 1903 May 2019 Update System Requirements has been changed for installing the OS architecture. This version requires 32GB storage capacity size for both 32-bit and 64-bit at least on the system drive.
Microsoft seems to have modified the document for Windows Processor Requirements recently. Addition to the prevailing info, an entry for Windows 1903 has been added to the page. Now a device needs to have.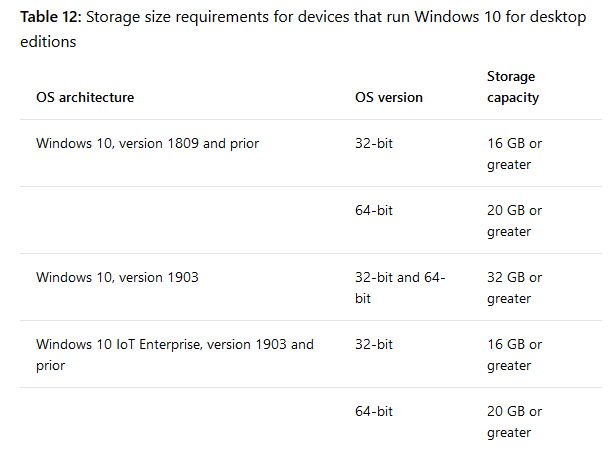 Windows 10 1903 May 2019 Update System Requirements
Processor requirements table of Windows 10 1903 is as follows –
| | | | |
| --- | --- | --- | --- |
| Windows Edition | Intel Processors | AMD Processors | Qualcomm Processors |
| Windows 10 1903 | Up through the following 9th Generation Intel Processors (Intel Core i3/i5/i7/i9-9abcK), and Intel Xeon E-21xx, Intel Atom (J4abc/J5abc and N4abc/N5abc), Celeron and Pentium Processors | Up through the following AMD 7th Generation Processors (A-Series Ax-9abc & E-Series Ex-9abc & FX-9abc); AMD Athlon 2xx processors, AMD Ryzen 3/5/7 2abc, AMD Opteron and AMD EPYC 7abc | Qualcomm Snapdragon 850 |
Right in this way storage, capacity size requirements are displayed in the following table –
| | | |
| --- | --- | --- |
| OS architecture | OS version | Storage capacity |
| Windows 10, version 1903 | 32-bit and 64-bit | 32 GB or greater |
You might have remembered that previous versions of Windows 10 have storage requirements of 16GB.  But the upcoming 1903. You may read our article to sense the specifications – System Requirement to have Windows 10 on Your PC.
When we compare Microsoft's OS and Google's Chromebook the previous wins as it requires higher resources to be installed. Now the costs of hardware are increased so Windows 10 1903 users' who are running small or old devices will have a question mark. Their pockets are going to be suffered when they will add hard drives for more storage space. while The ones who suffered were the users who bought the devices with cheap hardware and then didn't even get a feature update installed. That failed because of a lack of memory.
You can see the Windows 10 1903 May 2019 Update System Requirements in the following pages –
Sources –