Google is finally unveiling the dark mode support which is one of the biggest enhancements to the Chrome 74 web browser. According to the company, this is a beta version and therefore a limited number of users will get the new interface feature into the original one. However, you can Enable Google Chrome 74 Dark Mode on Windows 10 by using some smart maneuvering.
Google has confirmed that in the near future, this feature will be officially rolled out for the remaining Chrome users. Although, If you don't want to wait for the release to fully enable this, follow the steps below and it will all come down in just a few clicks.
Way to Enable Google Chrome 74 Dark Mode on Windows 10
Here is how to enable Google Chrome 74 Dark Mode on Windows 10 –
Before proceeding it, what you have to do Download and install Chrome version 74, if applicable.
Step-1: First and foremost, click on the Start button and type chrome.
Step-2: Right click on the browser name in the result and select Pin to taskbar from the context menu.
Step-2: Now, Go to the taskbar and do a right click on the pinned Chrome app. Once again right click on the Google Chrome item available in the appeared menu. Select Properties option to access settings.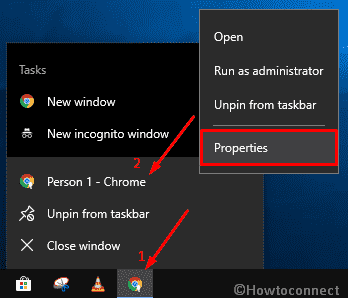 Step-3: In the Target field, under the Shortcut section, add the following parameter at the end of the path -force-dark-mode
Step-4: On appending, the Target section look like similar to this line –
"C:\Users\xboxl\AppData\Local\Google\Chrome SxS\Application\chrome.exe" --force-dark-mode.
Step-5: Once you make the changes, click on Apply followed by the OK button.
Step-6: Restart the application to see Google Chrome 74 black background. on Windows 10.
On finishing the above steps, launch the browser using the pinned icon on the taskbar to enjoy Google Chrome 74 tweaking. Besides, to revert the original look, remove the appending parameter from the Target field.