Windows 10 Build 18234 (19H1) comes up with multiple new feature and fixes to the Insiders who opted Skip ahead ring level. This update includes Microsoft To-Do, Sticky Notes 3.0, and Snip & Sketch improvements. Additionally, the build has a big number of fixes such as for bugcheck, taskbar flyouts, WSL hanging, Task View, etc.
You will receive Windows 10 Build 18234 (19H1) through automatic updating system. The build has a few unknown issues and Microsoft is working on them to offer solutions.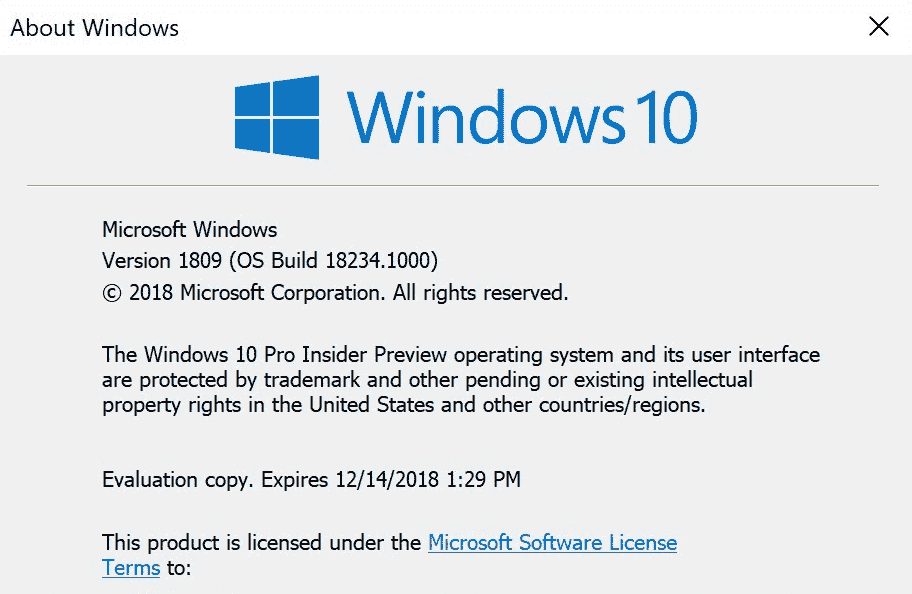 Windows 10 Build 18234 (19H1) for Skip Ahead Changes, Improvements and Fixes Details
Let's see –
Windows Ink support for Microsoft To-Do gets
Capture and complete your tasks naturally with Ink! Microsoft comes up with support for handwritten input to let you perform your tasks seamlessly in Microsoft To-Do. The feature will lie in the Version 1.39.1808.31001 and later.
Sticky Notes 3.0
The foregoing week, they declared a big update to Sticky Notes 3.0 for Insiders who have chosen Skip Ahead.
Snip & Sketch Improvement
In the present update, Windows 10 Build 18234 (19H1) 10.1807.2286.0 of Snip & Sketch was buggy so Microsoft recommends for upgradation. Simply click the chevron adjacent to the New button in the application and you'll view options to Snip in 3 modes. Moreover, you are able to right click the icon in the taskbar to get these options.
Windows 10 Build 18234 (19H1) General changes, improvements, and fixes for PC
The current build includes dark theme File Explorer payload.
Windows 10 team solved bugcheck (GSOD)issue that occurred while logging out of user profile or shutting down.
Microsoft thanks to the users who submitted feedback about the XAML shadows. You will also observe that the acrylic no longer exists in some popup controls. But the feature will be brought back in a future flight.
Windows 10 insider team resolved taskbar flyouts that were not displaying an acrylic background.
They fixed WSL hanging problem in the previous flight.
Microsoft updated the Emoji Panel to support the feature search and tooltips for the version Emoji 11. These terms will populate text predictions when typing with the onscreen keyboard.
Windows 10 Build 18234 settled explorer.exe would crash. This was occurring when you were in Tablet Mode and launching Task View in portrait orientation.
The build fixed application icons in Task View might look a bit blurry on high DPI devices.
In this update, narrow devices activities in Timeline might overlap the scrollbar to a certain extent. Microsoft has fixed the issue.
They solved one more Timeline problem showing an unexpected error message no supported app is installed. This happened when clicking certain activities, even though a supported app was installed.
Windows 10 Insider team fixed Taskbar background color that could be transparent when you changed graphics device.
They solved pinning app icons to the taskbar taking more time than usual recently.
Microsoft resolved option to setup a pin from the lock screen could be stuck as the default login method instead the login screen memorizing your preferred. The problem was occurring when setting a pin and removing it.
They made some improvisations to improve the amount of CPU that cdpusersvc uses.
Windows 10 Build 18234 (19H1) solved New button in Snip & Sketch application not working.
The build settled Notepad Search with Bing feature that was searching wrongly for "10 10" instead of "10 + 10" as a result of search query. It also fixed accented characters would show a question marks in the result.
Microsoft resolved reset the zoom level hotkey Ctrl + 0 in Notepad wouldn't work when you typed 0 from a keypad.
They settled open large files in Notepad taking longer to open large files when word wrap was enabled.
Windows 10 Build 18234 (19H1) solved downloading a large file in Microsoft Edge browser would close at the 4GB mark.
The update resolved t Edge's inline definition pop up would open a blank pane when reading.
Windows 10 insider team settled Edge Settings and More menu would be truncated. The problem occurs when the option to increase text size was enabled in Ease of access.
They fixed Find on page in Microsoft Edge we browser did not either highlight or select the current instance of the result.
Windows 10 team solved favorites would get stuck showing a star next to the favorite name after you rest Edge browser.
They resolved the problem where you couldn't paste text into a UWP app after copying from a website in Edge.
Windows 10 Build 18234 (19H1) includes a solution to contents of the Microsoft Edge window that was becoming offset from its frame.
If you right click on a misspelled word in Edge browser the spellchecking menu look in a wrong place. The build has fixed this issue.
They solved Word Online document not working in Windows 10 in S Mode.
Microsoft resolved all unsent typed text missing following the ending of an emoji composition.
Windows 10 insider team solved nearby sharing would be blocked on the sender device. The issue happens after canceling share to 3 different devices.
Microsoft fixed nearby sharing section of the Share User interface disappearing for certain users although enabled.
They solved components of a notification with a progress bar might flash every time it was updated.
Windows 10 team fixed share target windows not closing when you hit Alt+F4 or the X.
They resolved a decrease in Start reliability over the last few flights.
Microsoft resolved Cortana crashing when opening tips and doing web searches.
They fixed New subsection of the context menu appearing longer after right-clicking the desktop.
Windows 10 Build 18234 (19H1) solved Office failed to launch from Microsoft store with an error about a .dll not being designed to run. The issue was taking place in Windows S Mode.
The update solved an error "the file was not a valid font file" when installing a font for a single user (instead of as admin for all users).
The Windows 10 insider team fixed the error message updating the security questions for account required admin permissions for local users.
They resolved color and wallpaper settings were not properly applied after a system upgrade when you migrated offline.
Microsoft resolved Settings taking longer having noticeably recently.
They solved Settings would crash while bringing back when Bluetooth & Other Devices was opened and then minimized to the taskbar.
Windows 10 Build 18234 (19H1) resolved date in Date & Time Settings would revert to January when you 1st time you manually selected.
Microsoft increased the image size limit for the clipboard history from 1MB to 4MB. This will accommodate the potential size of full-screen screenshots captured on a high-DPI devices.
They solved more memory consumption on focus switch when using Chinese (Simplified) IME adding up over time.
Windows 10 insider team resolved text prediction and shapewriting not functioning when you were typing in Russian on the onscreen keyboard.
They solved flakey network connectivity. The problem was networks got stuck identifying, moreover stale network flyout connectivity state.
Microsoft resolved Narrator toggling a checkbox with a braille display problem.
Windows 10 Build 18234 (19H1) Known issues
Make Text bigger option in Ease of Access might face text clipping problems or cause that the text size is not increasing ubiquitously.
Scan mode "Shift+Selection" commands in Narrator may not correctly work in Microsoft Edge and you can't select text in an appropriate way.
The Ease of access tool Narrator occasionally doesn't read in the Settings accurately when you switch with arrow and Tab keys. Give an attempt to navigating to Narrator Scan mode for the time being. When you disable Scan mode subsequently, Narrator will read when you switch with arrows and Tab keys. As a second choice, you can restart Narrator as a solution.
The current update solves a common issue ending up with links that opened one app from another not working. There's one particular variant of this that will still not work in today's build. When you will click on links in PWAs, for example, Twitter doesn't launch the browser. They are working on a fix.
You may find the background of notifications and the Action Center miss color and become transparent including an acrylic effect.
Source – Windows Experience blog.