Windows 10 Build 18894 20H1 comes to insiders in the Fast ring carrying a collection of fixes, changes, and improvements. This update holds a new File Explorer search experience powered by Windows Search. Over the next few days, the company will start rolling out this feature to increase compatibility, and to make it easier to locate your files. In addition, the build also includes certain known issues like – Realtek SD card, Bopomofo IME, remote desktop and more.
You may receive this Build 18894 20H1 by navigating to the built-in Windows Settings followed by visiting the Update & Security. Subsequently, you need to click on the Check for updates button and let the downloading start. You're able to get this build by itself if you haven't disabled or paused the automatic updates feature. Let us walk through the details and see what important features and changes build 18894 brings for you.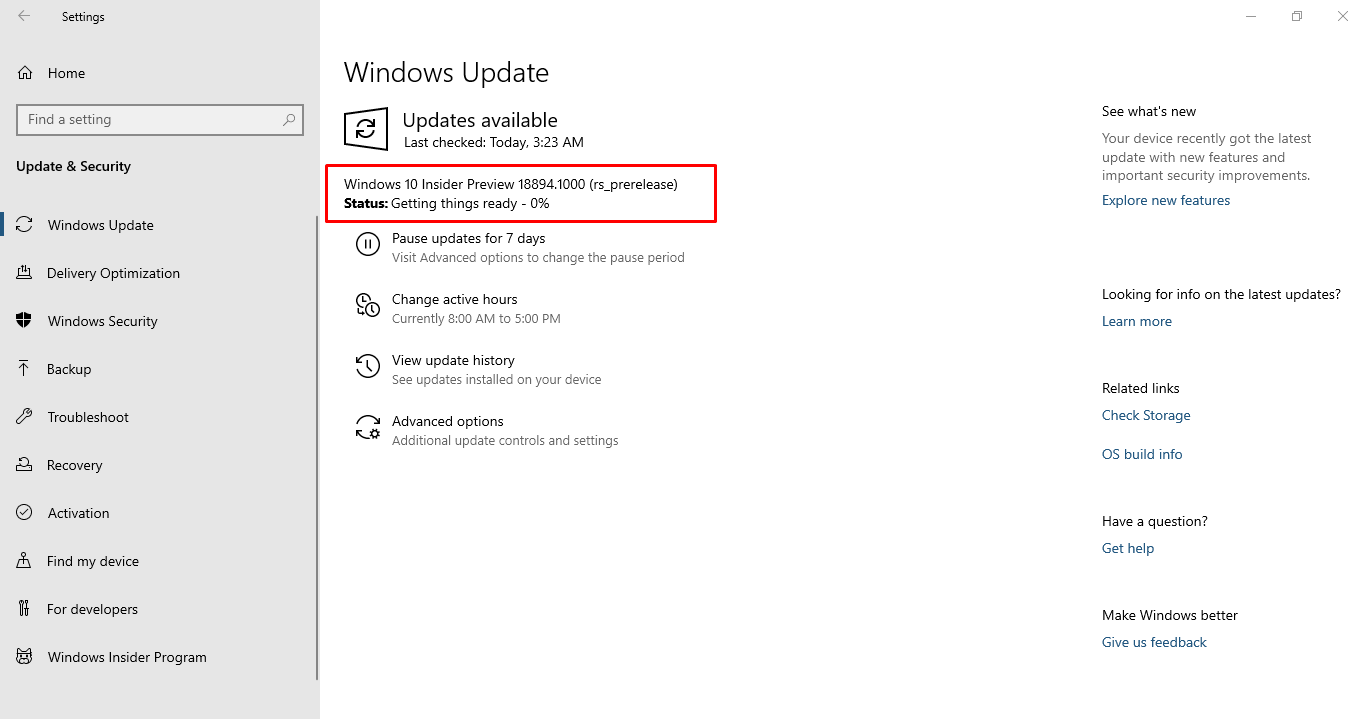 Windows 10 Build 18894 20H1 Features improvements and Fixes Details
Here are the main fixes that the update brings –
The build resolves scrolling with the mouse wheel or touchpad problem. This issue was not working credibly across the device in the last few flights.
The Tech Giant fixed the crashing of an application while opening the Memory Integrity page in Windows Security.
Another issue, resolved now, is related to the Windows Update icon in the taskbar system tray. It was not high DPI optimized in the tray.
Windows 10 team settled the current issue where the "Add someone else to this PC" window would crash. Generally, this issue used to befall when an MSA-attached user would try to add a local user to the PC.
A vital issue that befalls as a typo in the WIN+(period) kaomoji section category names is resolved with this build.
Microsoft expert settled a race condition that could result in getting stuck with an outdated version of the search relevancy logic, impacting subsequent search results.
With the Windows 10 Build 18894, the issue that occurred in the Start menu is fixed which was not starting if the "continue experiences on this device" group policy was "disabled".
Usually, "Narrator + R" command sticks in PowerPoint Edit View. However, this issue no longer exists.
Now, the narrator will not read out "null" after each and every command, enlisted in the Narrator + F2 list.
Another problem preventing to increase the Narrator's volume occurred. The company fixes this issue.
Known Issues
Your Phone app will not work on the current build because of an OS bug. However, the issue doesn't impact the application if you are in the Release Preview or Slow ring. Microsoft is trying to resolve this in the next flight to the Fast ring.
A long-running problem of PC crash is also present in this build when you use older versions of anti-cheat software with game. The company is working with partners in order to get their software update with a solution. Most of them have released patches to prevent PCs from experiencing the crashing issue. Ensure that you are running the latest version of games to lessen the problem. Microsoft is also working inclusively with game developers and anti-cheat to fix these kinds of issues that may occur in the 20H1 builds.
You may encounter certain Realtek SD card readers that don't work correctly in this build. They are investigating the issue.
Search results on Taskbar will not appear when you use remote desktop (RDP) to connect to an enhanced session VM. Rather you will see only a dark area until you restart the process searchui.exe.
Sometimes on certain devices, night light does turn on when Fast startup is enabled. As a resolution, you need to restart. (Important – The issue will occur on a cold reboot or power off / power on. To fix the night light use Start => Power => Restart.)
When you drag dictation or emoji panel you may experience a noticeable lag.
After installing Windows 10 build 18894 you may find Tamper Protection disabled in Windows Security.
In All apps section, on Certain features on Start Menu are not localized in languages, for example, "FR-FR", "RU-RU", and "ZH-CN".
Selection of a color filter in the Ease of Access category may not come into effect simply but you need to toggle off and on the "color filters" option.
The IME candidate window for East Asian IMEs ("Simplified Chinese", "Japanese IME", and "Traditional Chinese") may not open on certain occasions. Microsoft is investigating the issue. You may work around to end task of WindowsInternal.ComposableShell.Experiences.TextInput.InputApp.exe  through the Details tab in Task Manager.
In addition, Bopomofo IME character width suddenly changes from Half width to Full width.
Source – Windows Experience blog.