Microsoft and the team roll out Windows 10 Build 18990 which contains lots of modifications, new features, and improvements as well. The update introduces a new option to enable auto-restart for UWP apps and enhancements in Windows Subsystem for Linus (WSUS). Moreover, it also releases updates for Xbox Game Bar.
Along with the improvements, this build also carries several fixes for Narrator, File Explorer, Simplified Chinese IME, and more. However, installing this will let you experience certain issues as well. In this article, we are listing down each and every detail including the fixes, features, and issues.
Windows 10 Build 18990 20H1 Changelog
Here is the list of significant changes that build 18990 carries –
1] Turn on Automatic Restart for UWP Apps
In the last month, the team came out with a new setting to manage if registered desktop applications from your previous sign-in session are rebooted when signing back into Windows. But with the release of preview build 18990, you gain the ability to restart the majority of open UWP programs as well. This new feature minimizes and restarts the UWP apps. As they are in a suspended state, this gives Windows and other programs more resources to get started which eventually diminishes sign-in time. To try out this new feature, go through the below steps –
Step-1: Open Windows Settings using the "Win logo + I" shortcut keys simultaneously.
Step-2: Go to the Apps category and do a click on it. Select Sign-in options subsection on the left sidebar of the following page.
Step-3: Switch to the right pane and locate the heading Restart apps.
Step-4: Here, toggle ON the switch next to the option "Automatically save my restartable apps when I sign out and restart them after I sign in".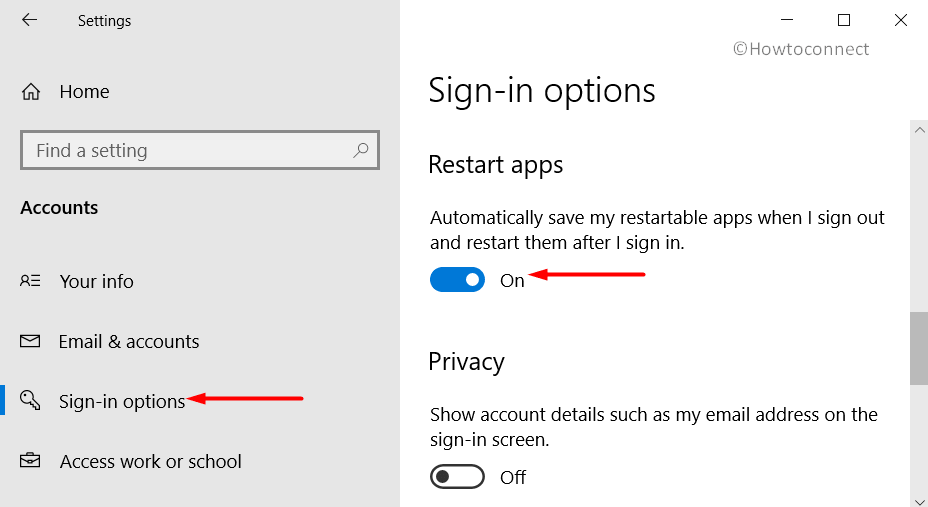 Step-5: Once you do so, start one or more UWP apps, for example, Feedback Hub.
Step-6: Then, sign out and sign back into Windows to only find the Feedback Hub to be restarted minimized with a taskbar button.
2] Improvements in Windows Subsystem for Linux (WSL)
The roll-out of build 18990 enhances the performance for directory listing in \\wsl$.
[WSL2] Injected additional boot entropy.
[WSL2] Resolves Windows interop when using su / sudo commands.
Other Updates
Xbox Game Bar Updates
The team is starting to release an FPS counter and achievement overlay as well. You will receive this update through Microsoft Store. Simply, set focus to your favorite game and then simultaneously press Win logo + G hotkeys to get started.
Reset your PC from the cloud 
The Deployment Team are discussing the new feature that lets you reset your PC using the cloud. To know more about it, you can check out the article from Program Manager Aaron Lower. In addition, you can also watch the video or the webcast by visiting the Mixer channel.
General changes, improvements, and fixes in Windows 10 Build 18990
The team resolves the File Explorer's search box issue. Users were reporting that performing a right-click on its search box fails to show up the context menu. This would use in pasting clipboard contents.
The width of the File Explorer search box is updated and made little bigger.
Trouble impacting Action Center reliability is over with this release.
A problem where the credentials prompt does not appear while connecting to certain VPNs from the network flyout. Though it always says Connecting but never completes the connection. Microsoft fixes this as well.
Magnifier bugs at different DPI levels are resolved now.
The team fixes another Magnifier issue. The UI does not close even after pressing the "Alt + F4" hotkeys.
Sometimes the Magnifier window turns completely black. It happens after switching from lens mode to dock mode. However, this problem will not occur anymore.
18990 fixes the bug that does not allow the Magnifier to work when using the Russian display language.
How "Read from here" works in Magnifier is more clear with this build.
An enhancement in the legibility of Magnifier reading highlighting rectangle is out.
Also, there is an improvement in the reading while using Magnifier Lens mode.
For some users, the text cursor indicator sometimes fails to appear. It does not work even though the setting was on. So, this preview build contains a fix for this as well.
Moving on, the text cursor indicator shapes will now be more legible and aesthetic also.
Windows 10 Build 18990 carry fixes for Narrator also. One such is where modifying the speech rate with the keyboard commands would speak out the new rate using the old one.
Secondly, the team resolves the Narrator's whitespace sound.
Moreover, there is an improvement in the Narrator's automatic dialog reading experience.
While using Narrator, table navigation hotkeys are not allowed. It is not permitted when entering a 'list view' to allow one to navigate across columns.
There is an enhancement in the Narrator's Page Summary dialog. It will allow tab and shift-tab to loop around the dialog controls.
The Narrator will not announce notifications from non-focused Chrome webpages. However, it will announce the current value of "thumb" in legacy color picker controls.
The Narrator will now onwards present links and play buttons correctly in iTunes.
Chrome and Firefox will now have an improvised Narrator's reading experience. However, certain pages can cause the tool to loop back up to previous content.
When some XAML controls are expanded, the Narrator will now update an attached braille display perfectly.
On the users' feedback, Microsoft modified the design of the input mode switcher on the taskbar for the Simplified and Traditional Chinese IMEs.
A fix is out for Simplified Chinese IME. Some Chinese characters in the Common Standard Chinese Characters dictionary were unable to be input with the new version. But this issue will happen no more after installing this build.
Switching to English input mode and then getting back to the Chinese input mode was creating issues. The punctuations would become Chinese even though the option to "Use English punctuations when in Chinese input mode" was ON. Windows 10 Build 18990 resolves this problem in the new version of Simplified Chinese IME. Furthermore, it fixes another issue where the new version of Simplified Chinese IME candidate window sometimes fails to appear.
A new version of the Traditional Chinese Bopomofo IME fails to display candidates or next phrase candidates on the touch keyboard. This problem will not happen after installing Windows 10 18990 build.
When using certain games, an issue used to appear that Microsoft fixes. The characters typed with the new version of Chinese Traditional IMEs were not committed by the Enter key.
The legacy language bar did not dhow IME mode icons. This happens while using the new version of Japanese IME, Korean IME, or Chinese Traditional IME.
One more problem of the new version of Japanese IME is over with this release. This new version wouldn't reconvert a word pasted from somewhere else by Henkan key.
Known Issues
Certain 2D applications may prevent their content from being recorded. Apps like Microsoft Store, 3D Viewer, Feedback Hub are not treated correctly assuming to have protected content within Windows Mixed Reality.
When capturing a repro video while reporting about a bug, you won't be able to choose to Stop video. This occurs when you use Feedback Hub in Windows Mixed Reality. Hence, in order to submit a repro video, you need to wait for at least5 minutes for the recording to time out. But if you prefer to proceed the bug complaint without a repro video, just close the Feedback Hub window. This will eventually end the recording and resume filing the bug when you reopen the app by navigating to Feedback followed by Drafts.
You may encounter issues when viewing Optional drivers in the new section on the Windows Update page. You will notice older drivers showing as available for download. When you accept, they will make an attempt to install and later on will fail to do so. It is, therefore, a bug related to revised Windows Update detection logic instead of this new user interface. The team got to know about its root cause and will soon release the fix in the upcoming build.
Devices that are configured for the dual scan (WSUS and Windows Update) for updates may face trouble as well. They will not be offered new builds in the Fast ring. Going with Check online for updates from Microsoft Update will scan for updates, but it throws a message saying, "Your device is up to date." We're working on a fix for a future flight.
That's all!!!
Source – Windows Blog