Microsoft rolls out yet another Build for the Fast Ring users that contains ample of fixes and improvements. Windows 10 Build 19008 generally includes a wide range of fixes for bugs and issues that Insiders were complaining for a long time. The Insider team resolves troubles with Windows Update, Settings app, Program Compatibility Assistant and more.
Simply install this update through Windows Settings but ensure that it holds several bugs which you need to handle carefully. Get this Build and make improvements in the system as well. In this article, you will see all the details that this update contains including the changes and the issues.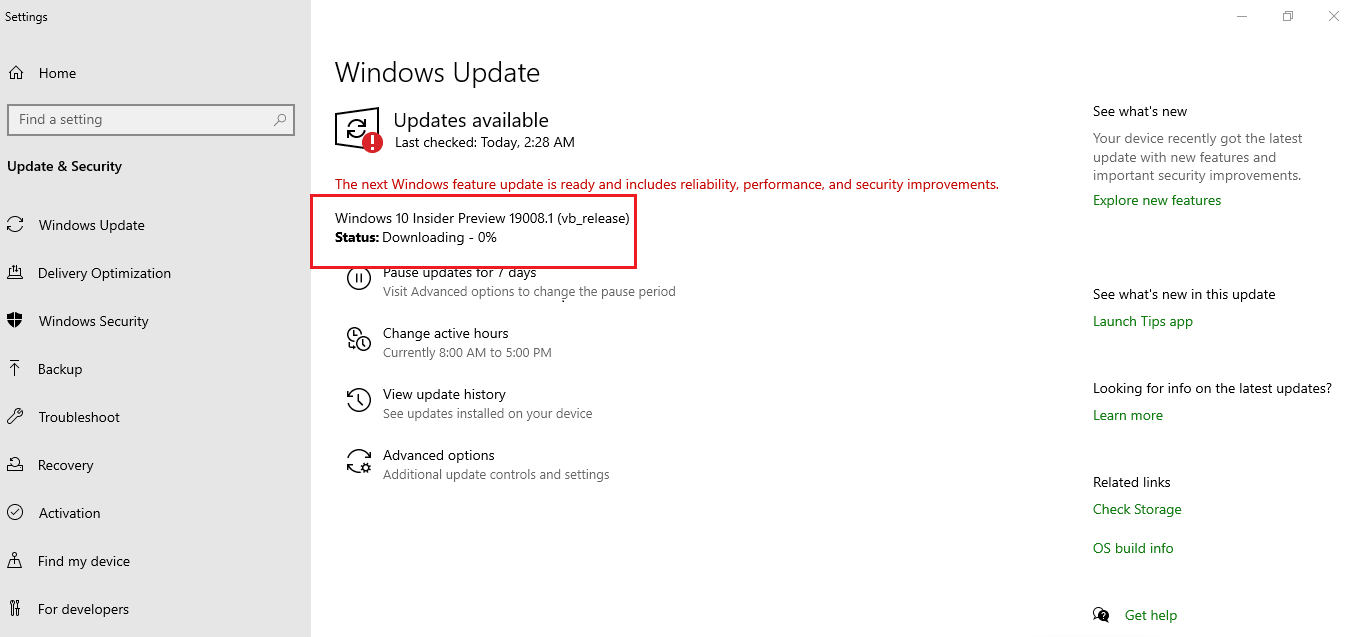 Windows 10 Build 19008
Here is a list of enhancements, fixes, and changes that this Insider Preview Build carries –
This update specifically mentions the Insiders that were reporting about their computers getting stuck on shutdown or reboot. A huge number of Insiders running Builds 18999 – 19002 were experiencing this issue. However, a fix for this was included with the update to Build 19002.1002. But in certain circumstances, if you didn't install Build 19002.1002, you can try out the workaround in order to upgrade to the build.
Microsoft also resolves the problem where when optional updates were available but Insiders with the Settings header might face issues. The Windows Update indicator might display a warning state. Whereas, in the real situation, the main page of Windows Update Settings shows that everything is up to date on the device.
Windows 10 Build 19008 rolls out a fix for the trouble that results when Settings fails to back up after minimizing the window.
There are enhancements in the open speed of the taskbar jump lists.
Microsoft fixes an issue where the Program Compatibility Assistant keeps popping up for certain Insiders.
On recent builds, Windows Hello will not display an error message that says "Can't turn camera on".
In the Ease of Access category, this build will clean up certain UI for the Mouse pointer settings.
A bug in the Narrator got fixed with this build. It was not able to read link text in the proper language, especially in Chrome Browser.
Known Issue in Windows 10 Build 19008
Due to certain modifications in the OS, there are some problems in BattlEye and Microsoft. It happens between some Insider Preview builds and also on a few versions of BattlEye anti-cheat software. In order to protect Insiders who have installed these versions on their PC, the team applied a compatibility hold. It will keep a hold on the devices that offers affected builds of Windows Insider Preview.
Microsoft is trying to resolve the problem where initiating "Reset this PC" with the cloud download option fails to function. It happens on the current build or on the previous ones when started from Windows RE.
For some Insiders, the Settings may not be available outside the opening via the URI (ms-settings:). However, Microsoft is investigating the problem.
Users may experience an issue while using the dark theme. Here, the hardware text prediction candidate window will get unreadable. It happens because of black text on a dark grey background.
After closing certain devices lid, Bluetooth devices may fail to reconnect as usual. Microsoft is working on a fix but as a workaround, you can toggle Bluetooth off and on in the Settings app. Else you can also restart the device which would solve the issue as well.
A certain number of Insiders are still complaining about the Windows Update problem. Even after updating to the new build, the Windows Update Settings page still displays the same build requires to install.
Another trouble that Insiders are reporting about is of Optional drivers. In the new section on the Windows Update page, it might show older drivers again available for download. In case you accept it, they will make an attempt to install and fail to do so. The team is still investigating the problem.
That's all!!!
Source – Windows Blog