Another update for Windows 10 20H2 has arrived just now. The build carries Graphing Mode in Calculator and the beta version of Indexer Diagnostics app. Additionally, 4 important fixes are included in this update.
You are able to get Windows 10 Build 19546 through automatic Windows updates. If you have not received till now then navigate to Settings => Update & Security and click on the button for "Windows update". For help, you can see – How to Get Windows 10 20H2 Insider Builds.
Windows 10 Build 19546 20H2 Changelog
Here are the features, improvements, fixes, and known issues in Windows 10 Build 19546 –
Graphing Mode arrived with Windows Calculator
Build 19546 comes up with graphing mode feature for Windows Calculator. Insider students can try this new innovation to study mathematics by advancing their conceptual understanding and attitudes towards math. Graphing capabilities are also necessary for users who are starting the exploration of linear algebra.
Following are the few points of graphic mode in calculator –
Plot one or more equations on the graph – This feature allows you to Enter plural number of equations to compare plots against each other and see interactions between the lines. You are also able to customize the line style and graph viewing window to suit your needs.
Add equations with variables – If you enter an equation with a secondary variable (for example, y = mx + b), you can easily manipulate those variables. The action will let you quickly understand how changes to the equation affect the graph.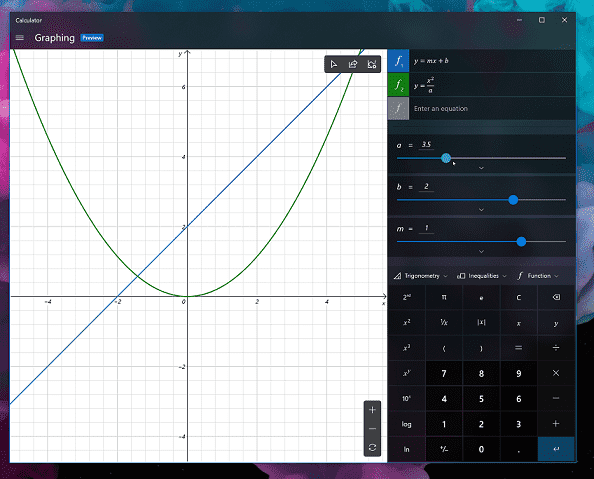 Analyze the graph – Graphic mode benefits you to trace plots with your keyboard or mouse to better see the relationship between variables in the equation. You can also interpret equations to help identify key graph features, like the x- and y-intercepts.
Check the new feature on Github.
Indexer Diagnostics app
The tech giant introduces Indexer Diagnostics app in beta version through Microsoft Store in this new build.  The utility helps getting knowledge of the capabilities of Windows search. Furthermore, the tool includes support for general Windows Search issues and increases troubleshooting ability.
General changes, improvements, and fixes for PC
Windows 10 Build 19546 fixed Timeline that is not exhibiting any activities.
Developers fixed Outlook search not working problem for some users.
They resolved an issue that was significantly impacting Task View reliability for certain users.
After pressing Spatial Sound => Off in the sound menu Explorer.exe used to crash. This problem is solved in the build. Follow – All in One Fix: File Explorer Windows 10 Issues.
Windows 10 Build 19546  Known issues
The BattlEye anti-cheat software incompatibility issues still persist in the build.  For help go to this page.
On newly rolled out Microsoft Edge Chromium web browser NVDA and Narrator users may encounter some troubles when reading and navigating web content. Developer teams are investigating these issues. The problem doesn't affect the users of legacy Microsoft Edge.
As in the previous build, cloud recovery option for Reset this PC isn't functional. Kindly bring local reinstall option into use instead when doing Reset this PC.
Microsoft's developer team for Windows 10 is analyzing the reports of the update process hanging for extended periods of time. The issue occurs when attempting to install a new build.
Some users get error 0x8007042b leading to failing to update to newer builds.
Similarly, they are looking into reports of external USB 3.0 drives issue.  The drive doesn't respond and throws Start Code 10 after they're attached.
The Optimize Drives tool shows wrong reports that optimization has never run. However, Optimization is performed successfully, nevertheless it is not reflected in the UI.
Documents section in the Privacy settings page shows only a rectangular broken icon.
When you try to connect to multiple sessions Remote Desktop Connection crashes.
The Windows accessory Snipping isn't working on secondary monitors.
Another persisting issue is The IME candidate window. The window may not start at times for East Asian IMEs (languages – Japanese, Simplified Chinese, Traditional Chinese). Microsoft is studying your reports. However you can try to change the focus to another application or editing area and return back to the beginninggs a workaround. Moreover, you can end task for TextInputHost.exe process from the Details tab in Task manager to make the window working.
Source – Windows Experience blog.