Windows Insiders in the Dev Channel receives another update that carries a bundle of new features. Windows 10 Build 20161 is out with new theme tiles in Start Menu, the functionality of Alt+Tab, personalized taskbar specifically for new users, and much more.
Along with other major features like graphing mode, development in Settings, improved notification experience, the update also include some fixes and known issues. However, to know more about everything that this build is offering, delve into the below section. Let's start –
Windows 10 Build 20161 201H1
Here are the details of Windows 10 Build 20161 for Windows Insiders in the Dev Channel –
Theme-aware tiles in Start Menu
The old and boring solid color backplates that appear behind the logos in the apps list of Start Menu gets revamped in this update. Windows 10 Build 20161 carries forward a uniform, semi-transparent background to the tiles. This eventually enhanced the Fluent Design icon for Office and Microsoft Edge. Moreover, the design also makes built-in apps icon more beautiful like Mail, Calculator, Calendar.
This polished design of Start Menu looks awesome in both light and dark themes. You can also even also add a splash of color to the Start frame and tiles. To do so, first, ensure to Choose Dark Mode and then toggle On the switch "Show accent color on the following surfaces" for "Start, taskbar, and action center". To reach this setting, navigate to Windows Settings => Personalization => Color.
ALT + TAB between sites and apps
This is for multitasker users, as all active tabs in Microsoft Edge will start showing up in Alt + TAB. This is not limited to the active one in each browser window. So Microsoft added certain settings and you can find them by navigating to Settings => System => Multitasking. Here, you have the option to simply configure Alt + Tab which will display the last 3 or 5 tabs. Else you can also prefer to turn off this feature completely.
For the time being this specific feature is rolling out to a subset of Insiders in the Dev Channel. However, this feature requires a Canary or Dev build of Microsoft Edge (version 83.0.475.0 or higher).
You need to stay tuned as this is just the start of productivity improvements to Edge.
Personalized Taskbar for New Users
Microsoft is aiming to provide a more personalized taskbar experience to its users. They are testing customer reception of default Taskbar content and customize the layouts depending on user and device signal.
The team will refine default layouts to reduce clutter and perceptions of bloatware as well. They will do this by assessing the performance of individual properties and monitoring diagnostic data.
Note – This newly added experience is limited to new account creation users only. Moreover, it is also applicable to the first logon scenarios. Programmable Taskbar will not be used to modify the Taskbar layout on existing accounts.
Enhanced Notification Experience
Users will have new notifications experience with the release of Windows 10 Build 20161. Firstly, know from where the toast is coming and you can do that by checking the app logo at the top. Once you are over with it, simply click the X icon on the upper right corner to dismiss it.
Secondly, by default, the team is turning off the Focus Assist notifications including summary toast. However, you can anytime change back to the previous behavior via Settings app.

Improvised Settings
The traditional Control Panel capabilities are slowly forwarding into Settings. As a part of this, the team is migrating the Control Panel's System page info into About Settings page. The link that launches the System page in Control Panel will henceforth be directed to About Settings page.
Enhancements are also in full swing to make the device information copyable in addition to the streaming information. Users can drop their feedback if they rely on settings that only exist in the current Control panel.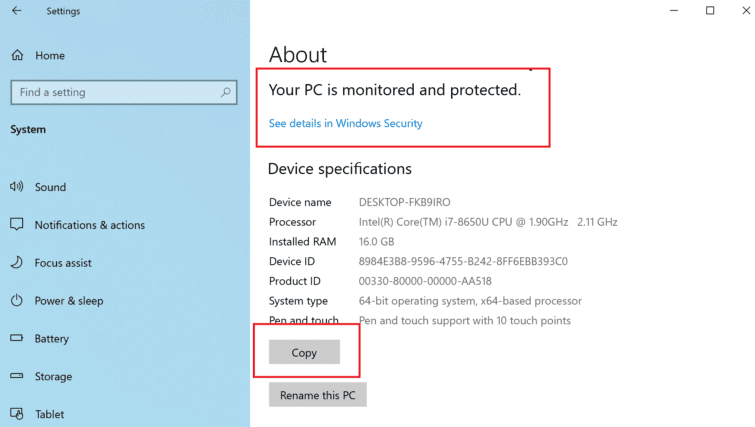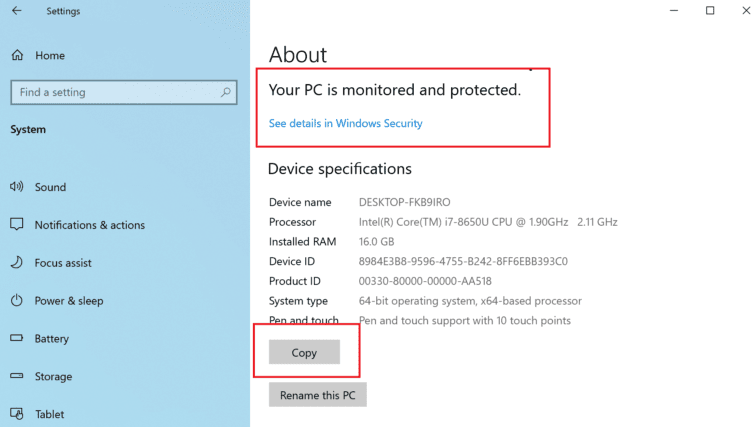 Tablet Experience for 2-in-1 Devices
Earlier when users detach the keyboard in a 2-in-1 device, a notification banner used to appear asking their preference to switch to tablet mode or not. With this update, things are developing by modifying the default setting. While detaching the keyboard, no notification toast will pop up. Instead it will switch you directly to the new tablet experience. However, to revert back the setting, head to Settings => System => Tablet.
Surface device users might have already witnessed this change. On non-touch devices, the tablet mode quick action is removed. Furthermore, Windows 10 Build 20161 incorporates new logic which will let users boot into the appropriate mode. It will happen as per the mode they were in last and depends on the fact whether the keyboard is attached or not.
Other Insider Updates in Windows 10 Build 20161
Windows Calculator Graphing Mode is Out for Everyone
General public can now experience the graphing mode feature that the team earlier released in January. Students who are ready to explore linear algebra will gain a lot with this graphing capabilities. Moreover, with this feature, students will be empowered to learn mathematics. It will thus help them in enhancing their conceptual understanding and attitude towards math.
Key Features
Plot one or more equations on the graph – Insert several equations in order to compare plots against each other and furthermore view interactions between the lines as well.
Add equations with variables – Try to put equations with variables (e.g., y = mx + b) and you will have the ability to update the value of those variables to see the changes live on the graph.
Analyze the graph – Analyze equations by tracing plots with your mouse or keyboard. This will help to identify key graph features, for example, x- and y- intercepts.
Depending on users' feedback, several improvements were made in this new graphing feature. For example, introducing a dark theme graph, line customization options, error handling. Moreover, it improvises an overall experience while plotting or tracing multiple equations at the same time.
However, to access this feature, ensure to have May 2020 Update along with the latest version of Windows Calculator as well.
Updates for Developers
The Dev Channel is continuously receiving the Windows SDK. Every time a new operating system is flighted to the Dev Channel, the corresponding SDK will be flighted as well. However, you can always install the latest Insider SDK.
Windows 10 Build 20161 Fixes
While connecting and interacting with an Xbox controller, an issue occurs where Insiders experience bug checks. The team fixes this specific problem in this release.
Games and applications will not crash at launch or fail to install after installing this update.
Since the last 2 flights Microsoft Edge was not able to navigate to websites when WDAG was turned on. With Windows 10 Build 20161, this issue gets resolved.
The increase in the log off time also gets a fix in this update.
An issue with Chinese Pinyin IME also gets a fix. Actually, after setting the preferred IME toolbar orientation, users were not able to change it after restarting their PC.
In the last few builds, Reset this PC was throwing an error when launched from Settings. However, the error "There was a problem resetting this PC" will not appear anymore.
Bluetooth devices will correctly display their battery level in Settings.
The Settings app used to crash down while win32 app was recording audio if you navigate to Settings => Privacy => Microphone. Thankfully, this release fixes this crash problem as well.
On some devices, Sound Settings display "no input devices found". It also results in the crash of the Settings app but things are better now as Microsoft fixes this issue.
While adding a printer, a specific dialog might crash in recent builds. It used to occur when you head through to the "Add a printer driver" dialog. This printer complication also gets a solution.
Some users encounter bugchecks related to graphics which gets resolved.
Windows 10 Build 20161 Known Issues
Some systems would crash down with a bugcheck HYPERVISOR_ERROR.
During an attempt to install a build, the update process might hand for prolonged period of time.
Notepad might fail to reopen files that were saved all by itself during a PC restart. However, documents can be recovered from %localappdata%\Notepad.
Task Manager might report 0.00 GHz CPU usage in the Performance tab.
In certain apps, while using the Korean IME when you press space, the last character gets deleted.
To avoid flashes of color, the team redesigns the tile animations in Start.
Insiders who will newly experience the above-mentioned Alt + Tab, please ensure that the setting under Settings => System => Multitasking to set Alt+Tab to "Open windows only" will not work for the time being.
Source – Windows Blog
That's all!!!