In Windows 10 build 9926 you find advancement in extent you know. First, we talk about start menu since it has come up after a long period of waiting. Here, we write tips to switch Start menu to Start screen which is quite easy. In the earlier build of Windows 10 switching from start menu to start screen, was a tedious task. But in this latest build, this is very easy and you will do it less than a wink.  Follow the below steps to go to start screen from start menu in Windows 10 build 9926.
How to Switch Between Start Menu and Start Screen in Windows 10 Build 9926
1. Open Start menu by hitting the icon available at the extreme left corner in the bottom area on the taskbar.
2. Take your mouse pointer to the topmost right corner of the Start menu. You find an expand icon. Click on this icon. You can see the Start menu converts into Start screen itself very promptly.
3. Actually, this interface is holding both of the Start Menu and Start screen and from here you can search for any file folder and navigate to anywhere as well as search and open any app.
4. Oppositely to switch from Start Screen to Start menu you can view a Shrink icon on the upper right corner of the start screen. Click this icon and the start screen will shrink to start menu.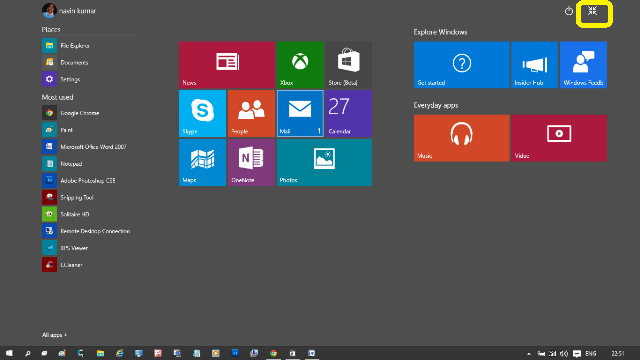 In fact, this is the part where Start screen and Start menu converge to each other. In the meantime, you get easier in the process of switching Start menu and Start screen.