We have already covered few topics on OneDrive till now. Today we will show you how to synchronize and backup your settings using the OneDrive in Windows 10. In the latest versions of Windows apart from the synchronization settings, you will be able to take the backup of your settings. After synchronizing your Windows settings, you can access them manually at any time. The best part is that when you sign into your computer with your Microsoft Account then you will be able to sync the Windows settings and will be able to handle them from another computer using Windows 10 with the help of OneDrive. To get these facilities, you need to sign into Windows 10 with your Microsoft Account. Now lets' delve into the main topic.
To get Sync settings article read 
How to Get Synchronization Settings in Windows 10
Get into the PC Settings from getting into the Start Menu.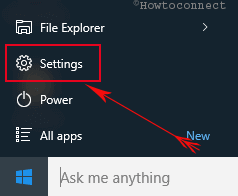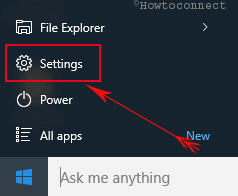 Look for the OneDrive and click to open it.
On the OneDrive list click on Sync Settings.
The right pane of the Sync Settings window will have numerous settings with a slider provided with each setting.
Synchronization Features in Windows 10
Sync Settings with OneDrive
The first section of Sync Settings is the Sync settings with OneDrive. Here, if you turn on the slider and keep it on then you will be able to sync your PC settings over all the devices using OneDrive in Windows 10. In case you wish to turn it off just move the slider to the other side and you will not be able to make a sync of your PC settings anymore.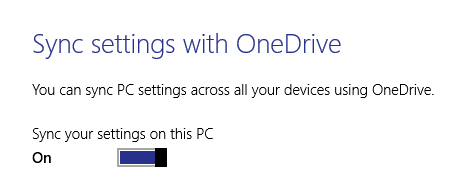 Personalization Settings
Under Personalization settings, you will notice three options. They are Start Screen, Appearance, and Desktop Personalization. The choice of the settings totally depends on you.
Start Screen
When this option is turned on you will be able to sync the settings of your Start Screen tiles and the tile layout.
Appearance
From the name itself, you will understand what this option will sync when selected. All the settings related to the appearance of your PC like the colors, background, lock screen and account picture will be synced.
Desktop Personalization
All the personalization settings that you had set for your Desktop like your themes, taskbar settings, high contrast and much more will be synced after you turn on the slider.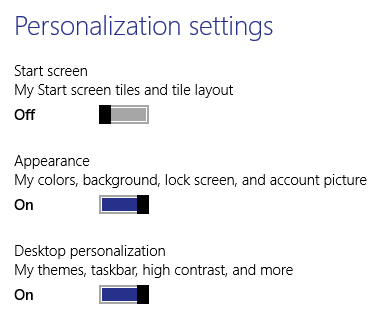 App Settings
The App Settings section will allow you to sync the applications that you have downloaded and installed on your PC from Windows Store.
Apps
As mentioned above this setting when switched on will sync all the applications that you have installed from your Windows Store.
App Data
The settings and purchases within your installed apps will also be synced with this option.
Other Settings
The other settings will let you get access to the rest of the settings of your PC. Let's see what are they.
Web Browser
The settings you have done to your web browser will be synced. All your settings related to your favorites, history, settings, home pages, open tabs will be synced with this option.
Password
All the login information of your HomeGroup, apps, websites, and networks will get synced.
Languages and Preferences
Under this option, settings like keyboards, input methods, display language, personal dictionary, etc will get sync.
Ease of Access
The settings of narrator, magnifier, high contrast, mouse settings, keyboard and other options are there which can get synced.
Other Windows Settings
Settings related to File Explorer, mouse printers, etc comes under this option.
Backup Settings
The last section of the Sync Settings is the Backup Settings. This option lets you take the backup of all the selected settings so that you can handle them later on whenever needed. By turning on the backup settings, you will be restored the settings to your computer. If you omit some PC settings from syncing still you can take its backup.
Conclusion
This is simply an awesome thing for OneDrive. You can get all your important settings of your computer sitting far away from your home. I am waiting for all your reactions to this article and also about this feature. Please take the proper and correct advantage of the technology. We are sure to reach the heights one day! All the best!!